"This post is part of a social shopper marketing insight campaign with Pollinate Media Group™ and Outshine Fruit Bars, but all my opinions are my own. #pmedia #SnackBrighter http://cmp.ly/3/8vNxcO."
Photos are the one thing that truly draw me into a blog. Just think about the photos you see on Pinterest that almost move the mouse to the "pin it" button for you. They're bright, beautifully staged, and creative photos that draw you in even if you might not ever actually make that recipe or DIY. You, too, can create those pin-worthy images for your blog. With a nice camera (or even your iPhone) and these simple tips, you'll be capturing beautiful recipe, lifestyle and photos of your do-it-yourself projects in no time!
In these photos you'll find our new favorite "sweet" treat in our house, Outshine Fruit Bars. Alea calls them "popsicles," but I call them delicious. I love that she requests them and I can just chuckle to myself that she's eating raspberries or other fruits that she absolutely refuses to eat otherwise and she has no idea. It's so fun being a sneaky mommy! And I love them for myself because they can cure my insatiable sweet tooth without overloading me with calories or sugar. (They even have no-sugar-added options available!) And they make the perfect subject for these photography tips I'm sharing with you today, don't you think?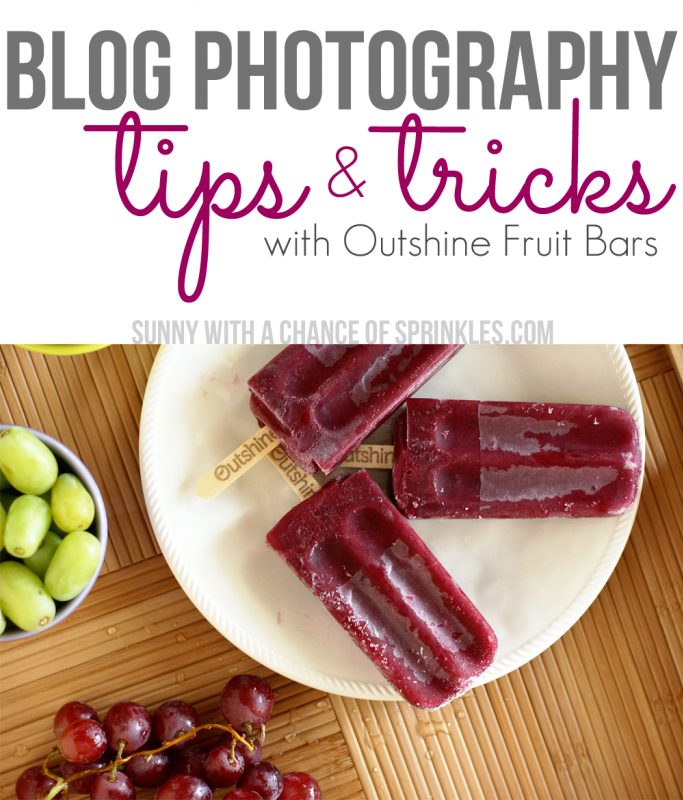 Take a minute to study these photos. What do you notice? What pops out at you? (And please just lie to me and say it's the $20-something serving tray I purchased from Target specifically for this post.) I'm really no professional, honest. I just bought my first DSLR on January and learned how to shoot in manual shortly after. I still consider myself very much a beginner, but I think that still gives me the ability to dish out and teach the things I've learned to other beginners like myself.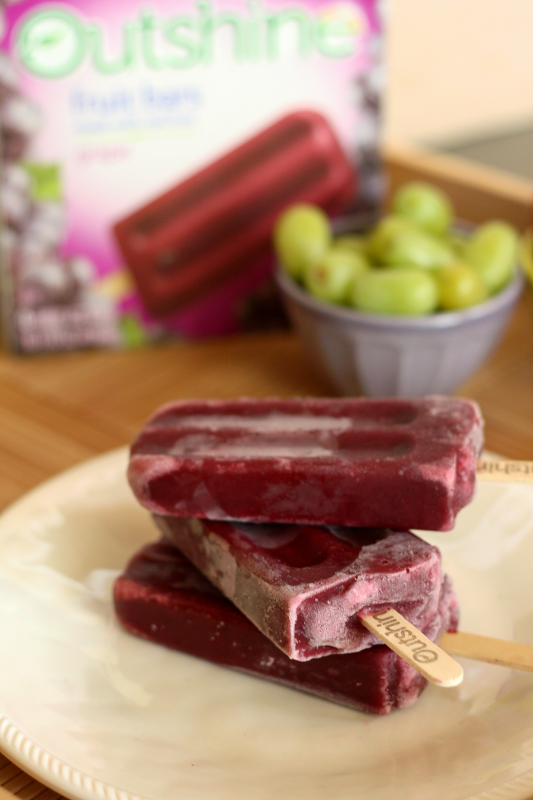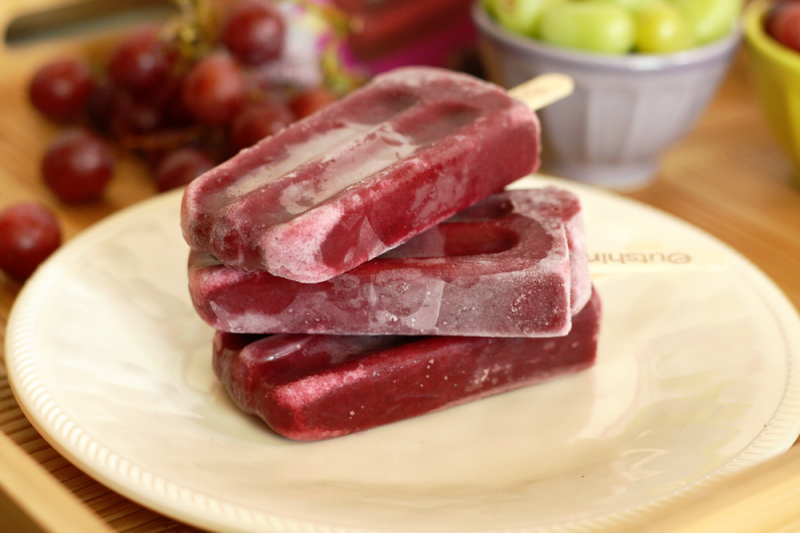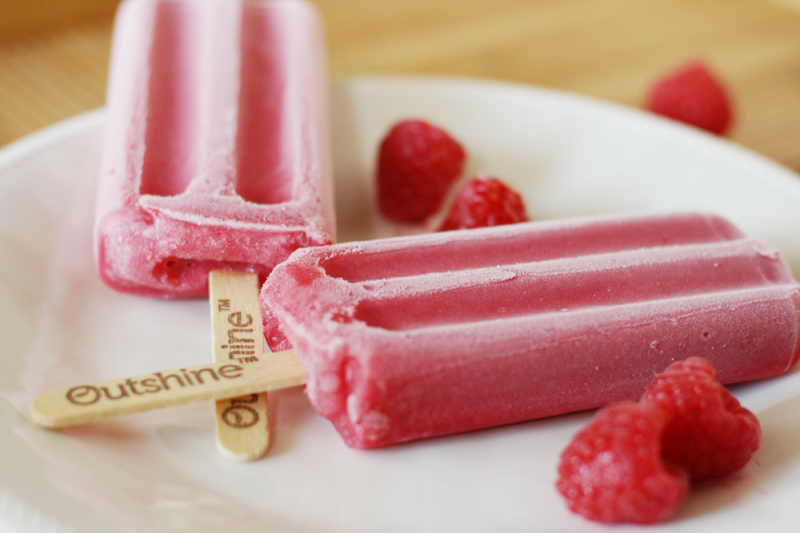 one | Lighting: Think bright, but not too bright. The one mistake I made when I first got my camera and started taking pictures was thinking that the object I was shooting needed to be in direct sunlight in order to get a good photo. That couldn't be more far from the truth. You want to take your photos near a bright natural light source like a large window or an open door, but not in the afternoon sun on the sidewalk in front of your house. Playing around with the lighting is something I constantly do when I set up to take photos. Sometime's it's more flattering to have light coming in from one side or the other and sometimes it's more flattering to have your subject facing the light source.
two | Props: Including props and staging your photos helps to make them more appealing and create a story within your photograph. As you can see, for the Outshine Fruit Bars, I used the fruits associated with each fruit bar. They help add a little something extra to the photo, don't they? For these pictures (and many others I've taken for my blog) I also used these Anthropologie mini latte bowls, this $2 plate from Target, and a serving tray from Target as well. I love the plain white of the plate with the little bit of texture around the edge. It's simple and I love simple! If you're looking for even more inspiration, I suggest checking out Live Laugh Rowe and A Night Owl Blog. Both have an incredible talent for staging their photos and do so in ways that I only wish I could!
three | Backgrounds: Let's face it, no one wants to see your messy living room or kitchen in the background of your pretty blog photos. It's just not all that pretty and appealing to the eye. Instead, grab yourself a piece of plain white poster board and set it up as the background for your photos. Or better yet, make yourself a faux chalkboard background– that's one of my favorites to use, actually. (DIY Faux Slate Chalkboard Photo Background) Remember that when you're shooting from above, what's under your subject is even more important than your back drop. I know a lot of bloggers use photography backdrops such as these on Etsy and some just take the pictures out on their deck, on decorative tile in their house, or on their hardwood floors. You just have to figure out what works best for you and for the specific photos you're taking.
four | Angles: Play with your angles. Don't just sit there and take photos of your subject from one point of view, move around, and take pictures from every angle possible. You may surprise yourself. You'll capture light and shadows in different ways and highlight your subject in different ways as well. Get down on the ground and take a photo from that angle and then grab a chair to get one directly overhead and continue snapping until you find that "perfect shot." That's exactly what I do when I take my photos and you know what? I never, ever choose the first photo for a blog post. It's usually one of the last photos I took, so it really pays to play around a little bit.
five | Think Vertical: I don't know about you, but Pinterest is my #1 referral for my blog. It has been for a while, but I saw a huge increase in my re-pins and traffic from Pinterest when I began creating pin-worthy vertical photos. A vertical photo takes up more real estate on Pinterest and the more space you take up, the more likely someone is to see your pin and the more likely they will be to re-pin it. You see, Pinterest limits the amount of space an image can take up horizontally, but vertically the size isn't limited as much. And I say "as much" because they've just recently added an "expand pin" button on the mile-long images. The sweet-spot-size for me has been 1000×3000 pixels. The only trouble I have is remembering to take vertical photos while I'm snapping away. So just remember to "think vertical!" Examples: Watermelon Mint Lime Water, 3 Ingredient Grilled Salmon, and Grilled Chicken Caprese Lettuce Wraps.
Now grab your camera and an Outshine Fruit Bar and get to snapping some amazing photos for your blog! You can take some photos of the Outshine Fruit Bars if you wish, but I recommend eating them before they melt. Don't wanna let a perfectly good (and delicious) fruit bar go to waste!
Related Posts:
>> What's in my camera bag.
>> Food photography tips from A Beautiful Mess.
>> Learn how to shoot in manual in one afternoon.
>> Photo editing tips for beginners.
Click below to visit this month's featured sponsor: