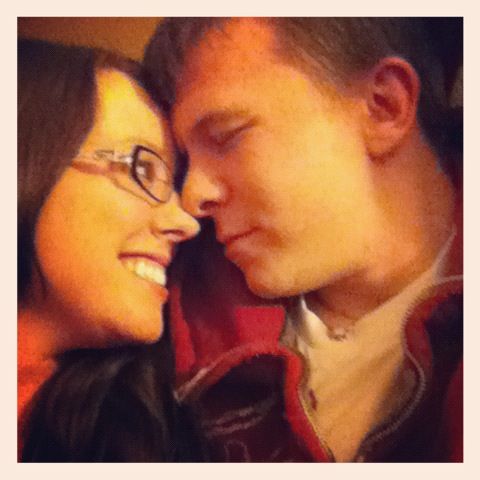 Disclaimer: This is an old photo. We look like babies. I desperately miss my long hair.
1. Mashed potatoes.
Yes, you read that right. We've disagreed on the preparation of mashed potatoes, well, since the first time we made them together. Cory likes all of the peel taken off of the potato and when I say all of the peel, I mean God forbid there's a speck of peel left on the potato. And chunks? Those potatoes better be smooth as butter, baby. Me? Not so much. I like my potatoes with a little chunk and a lot of peel. My dad always taught us to eat the peel of the potatoes– "that's where all the nutrients are"– he'd tell us. I'm not sure if that's laziness or the truth, but either way, I like peels in my potatoes. We have compromised slightly on this issue and Cory does leave a couple chunks in the mashed potatoes just for me.
It's the little things in life.
2. Sheets. We've literally got in a yelling match because I disagreed with him so strongly on how to put the sheet on the bed. Cory says that the sheet's supposed to go onto the bed so that the print is on the underside. That way, when you turn-up the corner of the bed, the pattern on the sheets shows. And I think that's totally bogus. Who puts a sheet on a bed upside-down?! I mean, really?
3. Where the syrup goes. This isn't something we've necessarily argued about out loud, but something I've argued with him inside of my own head I guess. Growing up we always put our syrup in the fridge. I'm not sure why or if it's even technically supposed to go in the fridge, but I found it quite odd when Cory corrected me one day after we first started living together when I went to put the syrup away in the fridge. I just kind of shrugged and put it away in the cupboard, but I think about this exact thing every single time I put the syrup away. Please tell me… WHERE DOES THE SYRUP REALLY BELONG?!
4. Putting things away. This sounds a bit trivial, doesn't it? Who could have an argument over actually putting things away. Let me explain… I hate clutter. I can't stand it. If there are papers laying out on the counter they need to be put away. Cory on the other hand could care less. His equilibrium is totally and completely fine with papers strewn about missing their home. I can't even begin to tell you how many arguments we've had over misplaced documents and bills and most recently a misplaced wrench. (I still don't know where I put that stupid thing away.) My take? We've been together almost 5 years now. He knows I put things away and if he doesn't want something to disappear then he should just put it away himself. Right? ::winks::
Despite all of these silly little arguments I really do love him. And after my blood is finished boiling over the fact that he put the sheets on upside down again, I'm just thankful that he actually put a sheet on the bed in the first place. I know there's more important things in life that we could argue about like religion and politics, but those are things that we actually agree on. Thank goodness. Isn't it funny what some couples argue about though? I thought that Mandy's post on this similar subject was just hilarious!
Honestly, I'm just thankful we both put the toilet paper roll on the holder the correct way because if he wasn't an "over" person, he'd be 6′ under 😉
What silly little things do you and your significant other disagree on?
Click below to visit this month's featured sponsor: