If we were having coffee today…
I'd ask you to please excuse my appearance. After wearing my new cute black jeggings at school all day, I couldn't help but kick them off and throw on a pair of scrub pants and soon as I walked in the door. My hair immediately went from ponytail to messy bun and I was ready to relax for the night before I remembered I needed to film a quick coffee date vlog!
If we were having coffee today… I would tell you how freaking excited I am about pumpkin everything. Have I told you how much I love this time of the year? It may have been 83 degrees when I went through the Caribou drive-thru, but that just meant that my pumpkin spice latte was iced instead of hot!
If we were having coffee today… I would ask you how you study best and if you have any advice for me on my upcoming exam. I know I'm a very hands-on learner, so I'll likely be re-writing my notes on flash cards, making charts and concept maps and talking out concepts, but I'm open to new study techniques as well!
If we were having coffee today… I'd tell you to wash your hands like crazy because there's a nasty stomach bug going around. Cory had it for almost two full days, but I managed to only have it for about 6-7 hours. Either way, it was no fun at all and I'd hate for you to catch it as well. I'm SO relieved that it managed to skip Alea. It's hard being a sick mama, but it's even harder having a sick little, in my opinion!
If we were having coffee today… I would show you this adorable picture that Alea drew at daycare. I'm pretty obsessed with it! It isn't the first time she's drawn people before, but it is the first time that she's drawn our family and the first time she's written out her entire name! If you look closely, I'm the abnormally tall person on the left. Alea apologized that she made my eyes blue instead of green… haha! She's the short one with purple hair and Cory's the angry looking one on the right. He looks a bit angry, but according to Alea he looks "large". Ha! And those pink scribbles in the upper right hand corner? They're fireworks of course! Aren't kids the best?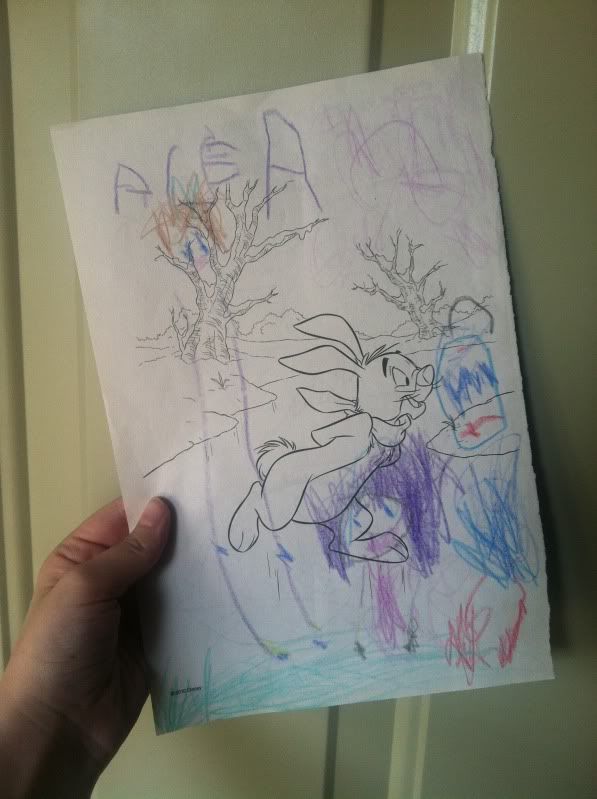 Seriously, isn't it the cutest? I love!
Hope you all have a happy Friday and a fabulous weekend!
Linking up with Rags to Stitches!
Click below to visit this month's featured sponsor: