It's a pretty well known fact around our home that I'm a horrible cook in the summertime. Standing over a stove becomes a daunting and sweaty task and firing up the oven just contradicts the precious air conditioning. Add Cory's awkward schedule into the mix where he isn't home till after Alea goes to bed some nights and others he ends up staying late anyways. It just makes dinnertime more complicated and it's easier for me to throw something together for myself and something else together for Alea.
But now that the temps are dropping (we're supposed to be in the 70's this weekend) I'm starting to get that urge to cook again and I'm actually excited to start whipping together some of our fall and winter favorites. I can already smell the pot roast cooking in the crock-pot, can't you? But it gets better… with the smell of fall in the air (and pumpkin spice lattes) also comes casserole weather. Wouldn't you agree? There's just something about a casserole that just screams comfort food to me. Whether it's a cheesy dish or a creamy dish, they always warm my heart and remind me of home and my childhood.
And this delicious Chicken Enchilada Casserole is no different. Just read on, try it out and you'll be adding this easy & delicious casserole to your weekly meal plan in no time.
Ingredients:
1 | Whole wheat penne noodles
2 | Boneless skinless chicken breasts (2-3)
3 | 15oz can of diced tomatoes
4 | 15oz can of enchilada sauce
5 | Can of diced green chiles
6 | Can of sliced black olives
7 | Country Crock Spread
8 | Shredded cheese
Recipe:
1 | Boil boneless skinless chicken breasts to cook thoroughly.
2 | Cook penne noodles before you put them in the casserole.
3 | Preheat your oven to 375 degrees Fahrenheit.
4 | Cut up chicken and combine with noodles in a 9×13 baking dish.
5 | Mix in enchilada sauce, diced tomatoes, green chiles, olives and a couple handfuls of shredded cheese.
6 | Add 3-4 tablespoons of Country Crock to the top of casserole.
(I put it around the edges to prevent the noodles from getting dried out)
7 | Place on center rack in oven for 20-25 minutes.
8 | Remove from oven when bubbling and add a layer of shredded cheese to the top.
9 | Melt the cheese in the oven and serve hot!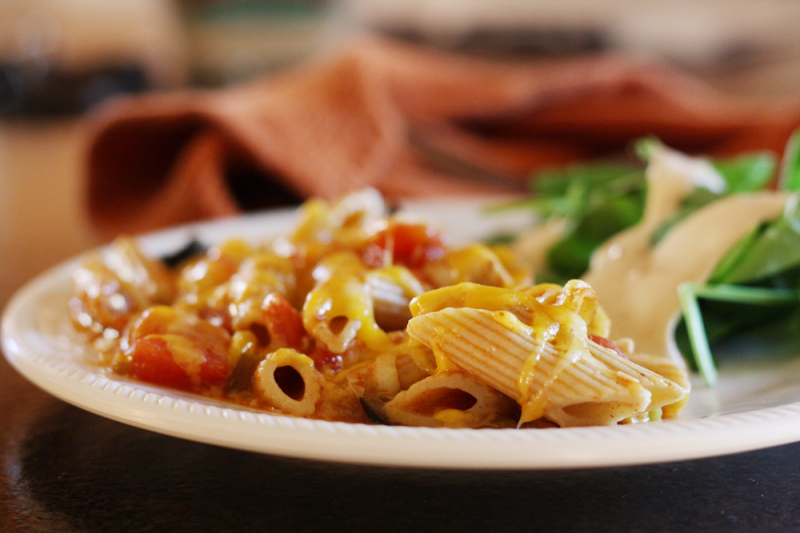 Are you drooling yet? I think my favorite "casserole" trick is to add a little
Country Crock spread
to moisten up those noodles around the edges that can get a little crunchy and dry out from the heat of the oven. Some people like a little crunch in their casserole, but I'm not one of them! This was so easy to throw together and it made such delicious left overs. You should have seen Cory's jaw drop to the floor when I told him that I cooked when he got home from work. Pure and utter shock, I tell you! And a day later the leftovers were
so good
that I had this for lunch
and
dinner! Yum!
What are your favorite casserole recipes?
Do you have certain recipes that you look forward to making in the fall and in the winter?
If you're looking for more delicious casserole recipes, be sure to check out this casserole board on Pinterest! So many great ideas!
I was selected for this opportunity as a member of Clever Girls Collective and the content and opinions expressed here are all my own.
Click below to visit this month's featured sponsor: