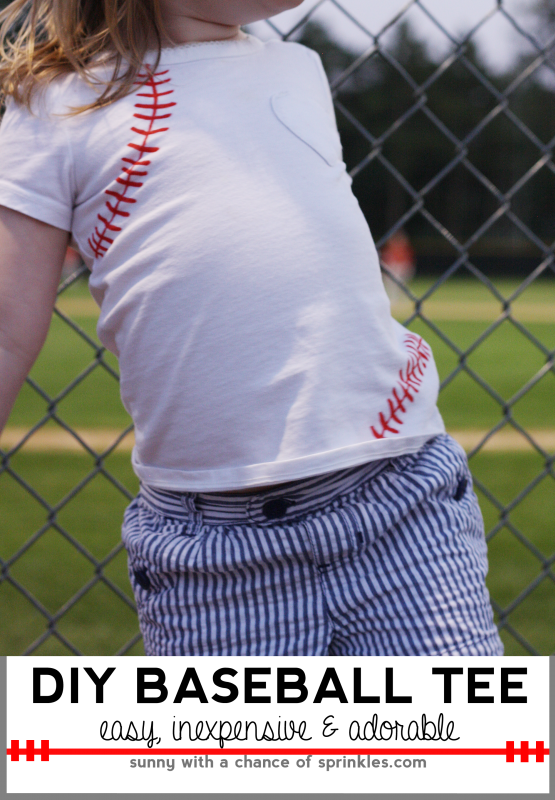 How cute is this do-it-yourself baseball t-shirt? All you need is a few simple and inexpensive materials– some you might already have laying around your house and you're good to go. We made this shirt for Cory's state tournament baseball game, but wouldn't it be perfect for the World Series coming up or a family trip to your local ballpark? Maybe you just have a little baseball fan or a little sister cheering for her big brother in tee-ball. Whatever your reason, this is the easiest way to show your littles love of baseball and it's so easy you can make a shirt for yourself as well!
Materials Needed:
one | White t-shirt
two | A red Crayola Fabric marker
three | Clothespins
four | Cutting board (or another flat surface)
Instructions:
one | Gather your supplies.
two | Stretch t-shirt out over a cutting board or another flat surface.
three | Clip t-shirt in the back with clothespins so that the shirt is completely flat and won't crease when you're drawing.
four | Draw a semi-circle in the upper corner of the t-shirt.
five | Draw another semi-circle in the opposite corner at the bottom of the t-shirt.
six | Draw lines through the semi-circles to make the stitches of the baseball.
seven | Let the marker dry. This took about an hour or two for us.
eight | Once the marker is dry, toss the shirt in your dryer on high for 30 minutes.
And it's ready for immediate wear right out of the dryer. It's really that simple!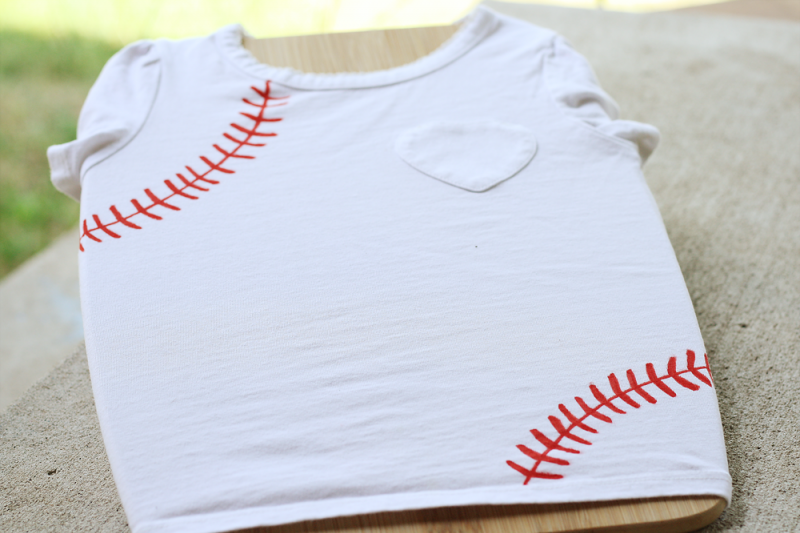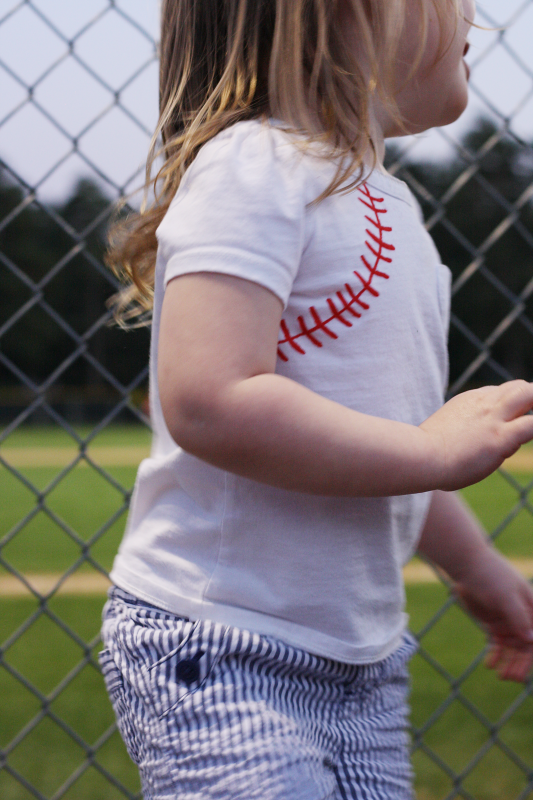 Alea was so excited to wear her baseball shirt to daddy's baseball game. She even got a couple compliments from other fans on her t-shirt. It was the perfect way to display her love of baseball for her daddy's state tournament game. We're still a little sad they lost, but Cory pitched 10 scoreless innings! We were pretty proud of him. You should have seen the look on Alea's face when two little kids came up to Cory at the end of the game asking Cory to sign their baseball. She sure was proud to call Cory her daddy 🙂
Click below to visit this month's featured sponsor: