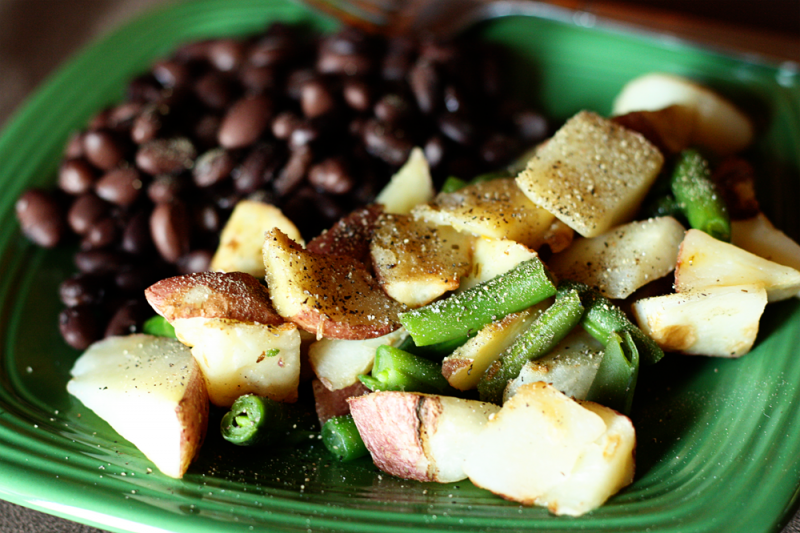 This post is sponsored by Green Giant, but I'm so excited to share my healthy eating journey with you!
So this healthy eating thing hasn't been too bad. If you would've told me I'd say that a week ago, I probably would've laughed in your face. Going from tricking myself into thinking strawberry ice cream was "healthy" because it had strawberries in it and stopping through the Taco Bell drive-thru on the way home from clinical for some extra "protein" from a bean burrito, I was all about making excuses and eating whatever the heck I wanted. (If you missed my first post on this subject,
check out my healthy eating goals here.
)
That's where my thinking needed to change, though. I needed to start thinking "healthy" and then I would become "healthier." In order to act on my healthier thoughts, I needed to plan. Planning out my meals is where I found the most success. If I made a list and planned out each of my meals and made a list of healthy snacks, I was so much more likely to adhere to that plan. Without a list, I was left to my own devices and when hunger strikes for me, I'm hungry and food needs to be made stat!
That's another thing I've learned my first week with this Green Giant Diet Cheaters challenge is that healthy eating doesn't have to be difficult. I don't have to spend endless hours in the kitchen preparing a healthy meal. There really is such thing as a quick + easy meal that's actually healthy and not in the form of a can of spagettios. (Not that I would eat those… ahem.) I really took a liking to Green Giant's Steamers Vegetable pouches. I used them to make the two insanely easy dishes prepared above. I just tossed one in the microwave while I tossed some brown rice I prepared earlier in a bowl and then added sliced chicken sausage. It maybe took 10 minutes IF that. The beans w/roasted potatoes and green beans was even easier!
That brings me to my next point, preparing things ahead is a huge time saver. Make a batches of brown rice, black beans, and even cook your vegetables ahead of time so you have NO excuses. And, leftovers are your friend. Make healthier dishes like this and make more than you'll eat. Just don't eat those extra servings! Save them in containers made out in portion sizes and you'll have a quick meal you can toss in the microwave! Easy as that! I'm actually taking the leftovers from the chicken sausage, rice + veggie bowl to clinical for supper tonight!
If I've learned anything this week, it's that you can't restrict anything. The minute I start restricting chocolate or sugar from my diet is the minute I start acting like an absolute crazy person. (Especially around that time of the month.) Instead of restriction, moderation has been the word of the week for me. I tend to crave sweets immediately after I eat dinner, so instead of eating a bag of M&Ms, I ate two or three. That was just enough to satisfy my sweet tooth and I wasn't left with the guilt that comes with eating the entire bag. It's okay to have little treats here and there!
Where I Struggled:
1. Drinking more water– this is just something I need to get used to more than anything. I typically drank about three 20-oz water bottles, but I know I should be drinking more than that.
2. The weekend– Cory went grocery shopping and brought home LOTS of goodies. Looks like he didn't get the memo or read my blog post from last week. Note to self: Tell boyfriend about my healthy eating goals prior to grocery trips.
3. Getting sick– I've been battling a cold all weekend. It helped me to drink more water, but it didn't help me in the eating department. Cory cooked our meals for the weekend and they weren't really the healthiest. Unless you think BBQ ribs and coleslaw is healthy. (It's not.)
However, Dr. V told me that I knock myself down too much and I don't recognize the things that I've done well. She told me that for each thing I think I've done wrong, I need to remind myself of one thing I did right. What a wise woman she is! I think this is something I struggle with in almost every facet of my life. So, instead of dwelling on where I went wrong this past week in the healthy eating department, here's where I went right:
What Worked:
1. Planning my meals and snacks ahead of time.
2. Having little treats here and there.
3. Green Giant Steamers Vegetable pouches
4. Making extras for leftovers and additional meals.
I even threw in another "positive" for extra credit! All in all, I think this week went really well. It might be the Type A in me, but I actually enjoyed planning out my meals and preparing snacks and meals for myself ahead of time. And it made me feel good to know that I was actually putting healthy things into my body rather than garbage. I hate the guilt that inevitably comes with not-so-good food, so it was great to actually feel good about what I was eating! Also, I started craving vegetables and other healthy foods. I got a crazy yearning for celery with peanut butter the other day and thank goodness Cory bought celery for soup or I would've had to make a trip to the grocery store. And don't even get me started on my cravings for apples… Mmm! 'Tis the season!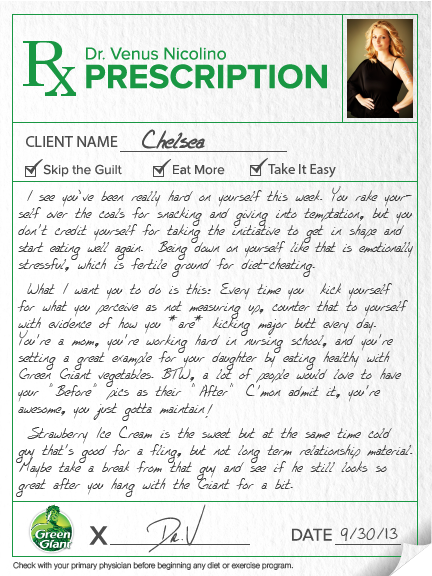 What works for you? How do you eat healthier?
Click below to visit this month's featured sponsor: