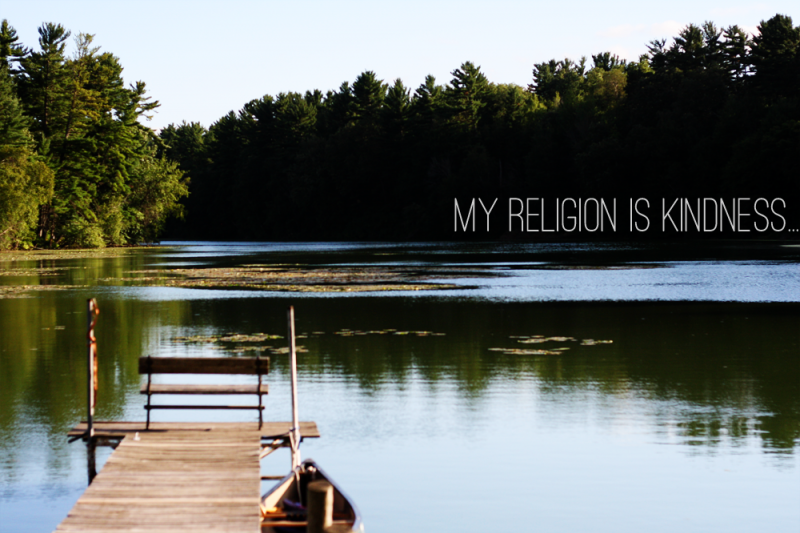 The title of this post may make it sound like I'm very opinionated on this topic, but it's really the farthest from that.
For lack of a better way of putting it and at the risk of sounding a bit cliche, I consider myself to be a spiritual person. I believe in a higher power and I believe that said higher power has a plan for all of us. I believe in coincidence, but I also believe those coincidences are all part of a bigger plan. I'm not necessarily sure who that "higher power" is, because so many different people and religions call Him by so many different names. I don't think any of them are more right than another. To me, it's just this higher being that none of us will ever understand no matter how hard we try.
More organized religion just isn't for me, personally. I pray every single day, if not frequently throughout the day, then definitely while I'm falling asleep. I love praying. Cory's said something to me while I was already lost in the comfort of prayer and asked me why I didn't respond. I just get consumed in thanking this unexplainable being for all of the blessings in my life and praying for those around me (including myself) that could use a little more love and light in their lives. It's just become a comforting routine I do every single night before I fall asleep. Sometimes I question if all of that praying makes a difference in my life or the lives of those I pray for, but the comfort it brings me is enough.
This is a topic I don't discuss with people a whole lot. Spirituality is a very private thing for me. I don't know if it's because I'm trying to avoid judgement from others or if it's just because I believe that my discussions with a higher power are so private that I don't really want to bring attention to that? It's complicated really, but in all, it brings me comfort and it's what makes me whole.
I know a lot of people have their own opinion on religion, spirituality, and God. Everyone's entitled to their own opinion after all, aren't they? I just thought I'd share a this little piece of me with you all. This little piece of me that I don't like to draw a lot of attention to, but this piece of me that I hold near and dear to my heart.
What's your take on religion and spirituality?
Hurtful or rude comments will be deleted from this post.
Please be respectful of all people and their religious beliefs.
Remember, if you can't say anything nice, don't say anything at all.
Click below to visit this month's featured sponsor: