I probably say this every month. Okay, actually I'm pretty sure I say this every month, but I seriously can't believe how fast September flew by. Is it really going to be October next week? Like is that real life? October's always been one of my favorite months and heck, I'll be one more month closer to graduation. I can't wait 🙂 However, September's been pretty amazing as well. We've been blessed with some awesome, abnormally warm fall weather and I've been personally blessed with some amazing ladies on my sidebar. If you haven't already checked them out, I really urge you to. They've been nothing but amazing and so easy to promote. Their blogs ROCK.
And they're pretty darn generous as well. We've all teamed up to offer one of you $120 to Target, an Origami Owl locket necklace, $40 to My Little Addiction and some really great ad space. I honestly couldn't think of a better way of starting the month of October than with all of these fabulous prizes. So enjoy, good luck, and don't forget to tell these ladies thank you!
If you're interested in participating in my monthly group giveaways, please check out my sponsorship options! I'd love to have you + I'd love to help promote your blog, shop, or business!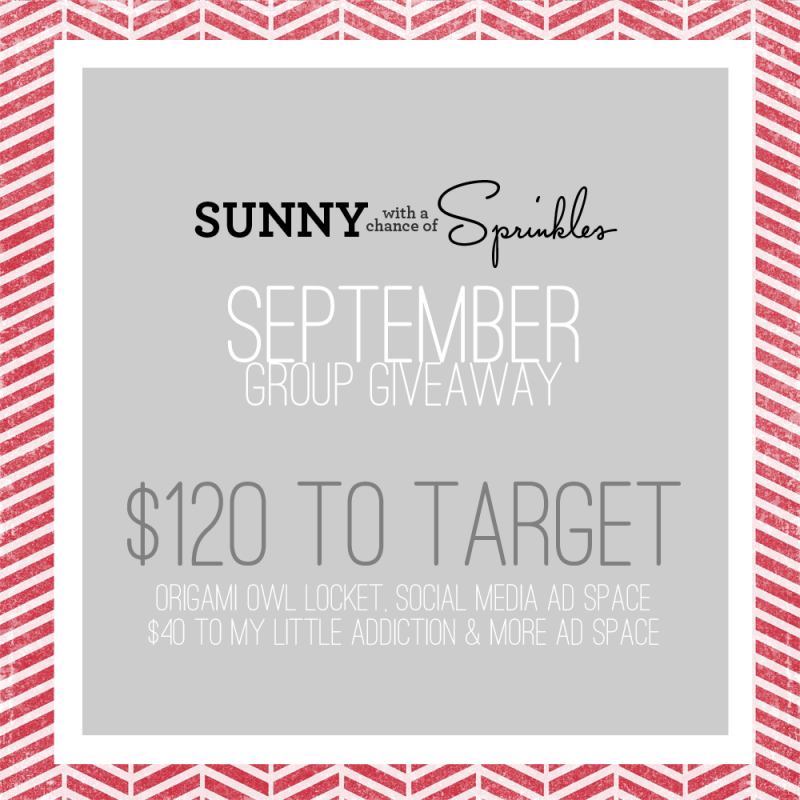 Please be honest with all of your entries.
Entries will be verified and if there's any discrepancy, all other entries will be deleted.
a Rafflecopter giveaway
Click below to visit this month's featured sponsor: