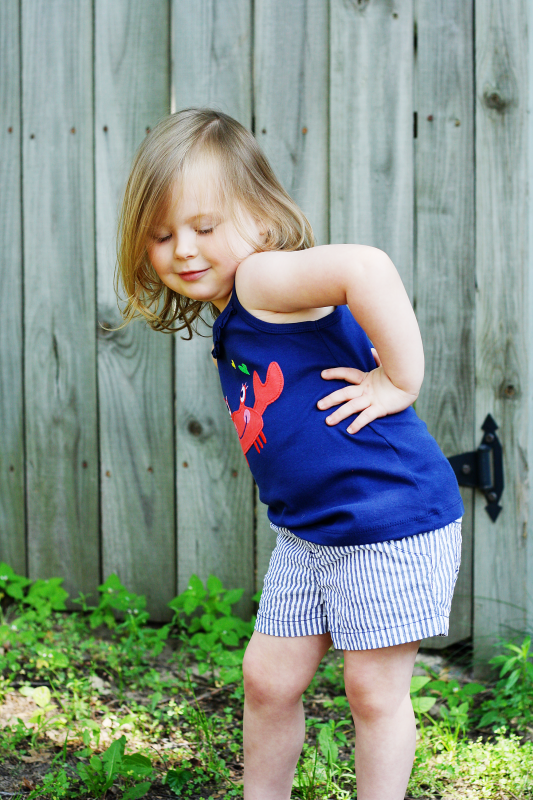 Tank & Shorts c/o: Carters at Kohls

Getting Alea to stand still and not act like a silly little goose when I take these pictures is almost impossible sometimes. I try and not get
too
frustrated though. These are the photos that display exactly who miss Alea is. Once she warms up to you, she's a complete and total ham. She's always chatting it up with the people at the register when we're at Target or the grocery store, she can be a little rambunctious, but she always says her "pleases" and her "thank yous." Sure, the photos above aren't the most perfectly posed photos, but they're "Alea's poses." These photos are her to a tee. It just wouldn't be the same if she were standing perfectly poised with one hand on her hip and smiling.
That being said, I hope you didn't click on this post hoping to get some secret, inside tips about how to get your child to stay still for photos. Because I honestly have no idea. (Unless you look back on these photos and these photos and then it's clearly evident I bribed her for her undivided attention with a sucker.) But, what I'm trying to say is, don't ask your little one to pose. It's not worth the frustration that you'll feel when they just downright don't listen to you and you won't be capturing their personality.
Try and catch them doing their favorite activity or set your shutterspeed up all the way so you can catch their cute little grin as they're running past you. Or maybe do tell your child to pose, because telling Alea to "show me her best fashion model poses" is what got me these adorable photos. It's just all about capturing those moments that you never want to forget… don't worry about capturing the perfect photo for a frame for your living room. Capture those fun candid moments you'll never get back!
I can't wait to show these ones at graduation 😉
Do you have any tips or tricks for capturing candid moments of your kids? Or do you prefer more posed portraits?
Click below to visit this month's featured sponsor: