Thank you to Mott's® for sponsoring this article. Grab goodness on-the-go with Mott's®.
If you've read my blog at all lately, you know that we're extremely busy around these parts. I just started school again and am now a couple weeks in. With exams, quizzes, case studies and clinicals I'm up to my nose in school work, but I'm also a full-time mother on top of that as well. School takes a lot out of me as it is and then having to come home and take care of an active, fun little girl is just plain tiring! It can be a struggle to come home from a long day of school (it's insane how mentally exhausting learning can be) and then make something nutritious for Alea to eat. She's quite the picky eater (you can read all about that in this post) and it's always a struggle to get her to make healthier choices and it's a struggle for me to find meal-time options that are both easy to make and healthy for Alea… especially being as busy as I am right now!
I've been trying to make more of an effort though. I know that when I take the time to put a little extra love in her meals, not only does she respond better and eat more of her food, but I feel better about myself as a mother as well.
Here's what was in Alea's bento box lunch:
one | Peanut butter & jelly (Alea's personal favorite)
two | Pretzels
three | Grapes
four | Bananas
five | Mott's® Snack & Go Applesauce pouch
six | Mott's® for Tots Apple Juice Drink
seven | Raisins
Yes, I know… no vegetables. But seriously? This kid of mine does NOT eat vegetables unless it's corn or peas. I try and get her to eat at least a couple servings of those two a few times a day, but I can't blame the girl for turning them down every now and then. I'd get sick of eating corn and peas everyday, too.
All in all, she really gobbled up this fun little lunch I put together for her. She was so excited to use her froggy bento box and was so excited to get a "squeezie" and some juice as well. They were the perfect compliment to her lunch– so much so I had to remind her that she had a peanut butter and jelly and fruit wanting her attention, too! She loved that they were sweet and a special "treat," and I love that there's 40% less sugar in Mott's® for Tots Apple Juice drink than in Mott's® 100% Apple Juice and there's no artificial sweeteners in the applesauce or the drink!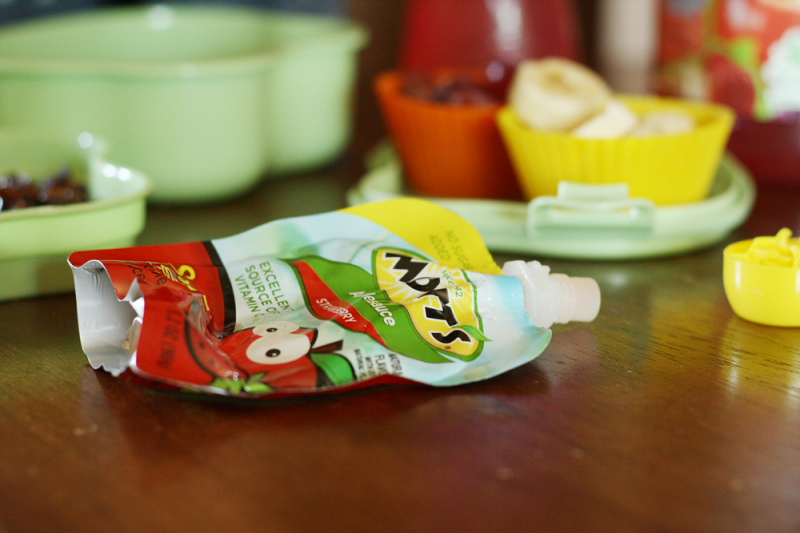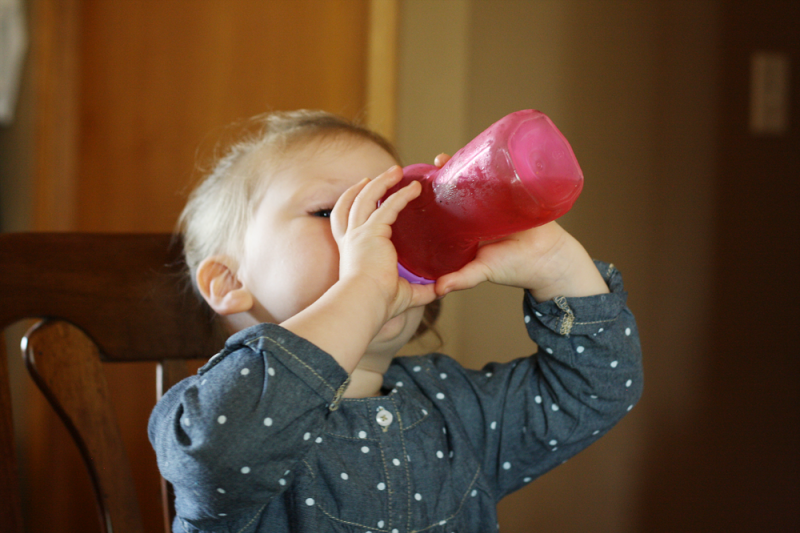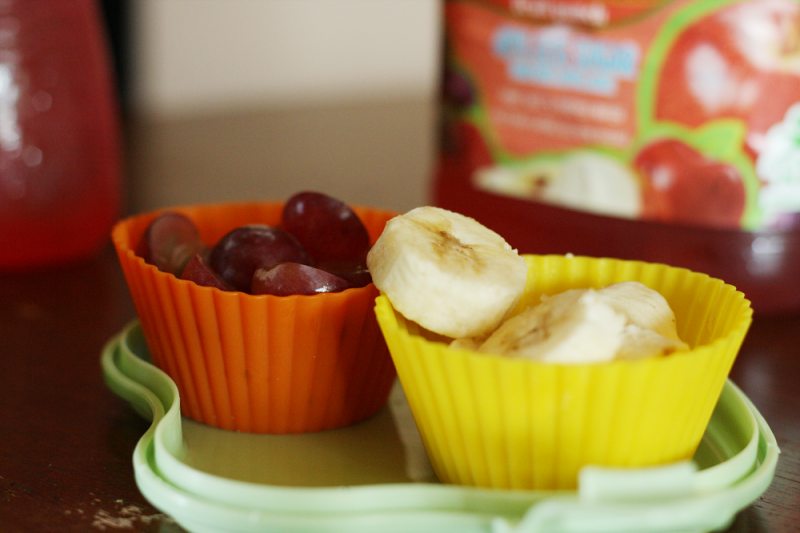 How awesome are these reusable muffin cups for lunches and snacks, too? They've been in our cupboards for the longest time, but this is the first time I've used them for Alea's lunch. She
loved
that her grapes and bananas were "mini muffins" and I think it also helped that her grapes and bananas weren't touching her other food. It's hit-or-miss, but sometimes she can be quite picky about that.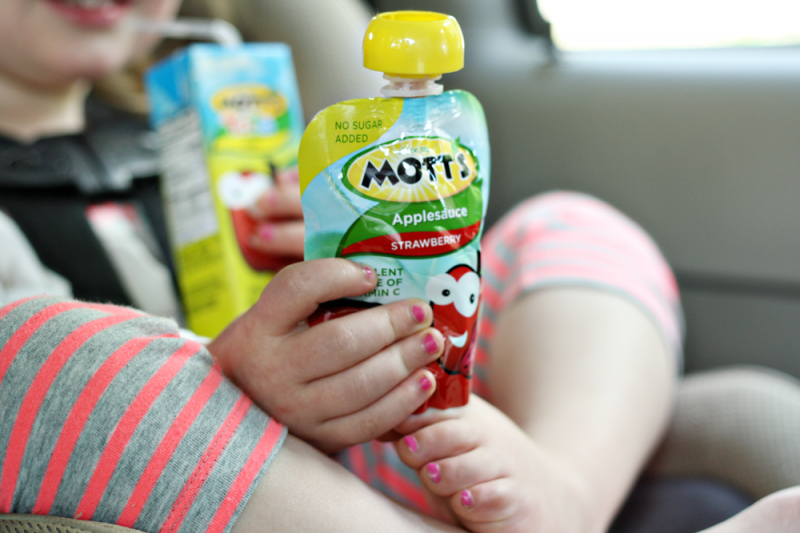 I also grabbed a Mott's® Snack & Go Applesauce pouch + Mott's® for Tots Apple Juice drink to surprise Alea with when I picked her up from daycare. It was just the perfect, healthy afternoon snack for her to enjoy on our way home. I love that they're so easy to grab, toss in my purse and surprise Alea with one later. They're especially effective if you want a peaceful Target trip, too. 😉
What are your favorite grab-and-go snacks?
Thank you Mott's® and Technorati for being sponsors of this article. All opinions expressed here are my own.
Click below to visit this month's featured sponsor: