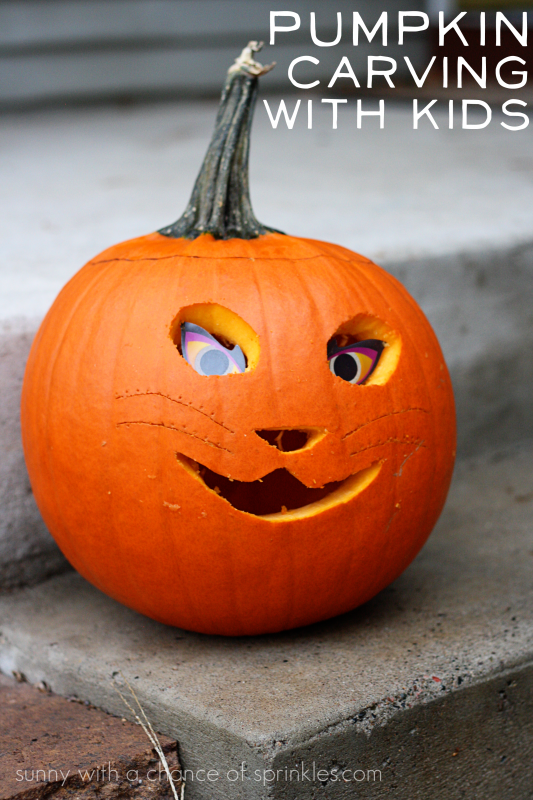 Every year for Halloween, we carve pumpkins as a family together. And when I say that "we" carve the pumpkins together, I mean that I scrape out all the pumpkin guts and Cory does all of the carving himself. He's just better at it and far more patient than I am and of course there's no way I'd allow Alea near any sharp objects to attempt to carve a pumpkin on her own! It's just how we've always carved pumpkins together– like a well oiled machine. A nice little assembly line. And I secretly
love
the ooey gooey pumpkin slime! I love that scraping out the pumpkins takes no time at all and then Cory's off drawing and carving out some intricate design while Alea and I snuggle up on the couch. (I think
This year, however, we decided to do things a little different. I told Cory I was going to carve a pumpkin for Alea from start to finish without his assistance. I felt a sense of regret the moment those words left my mouth because I've only ever carved a pumpkin start to finish one time in my entire life. You see, we had a similar deal growing up. My brother and I would scrape out the pumpkin guts, my mom would punch the holes with the Pumpkin Masters tools and then my dad would carve out our designs. It's always worked so well! But, I was bound and determined to show Alea that mommy could carve a pumpkin just as well as daddy could!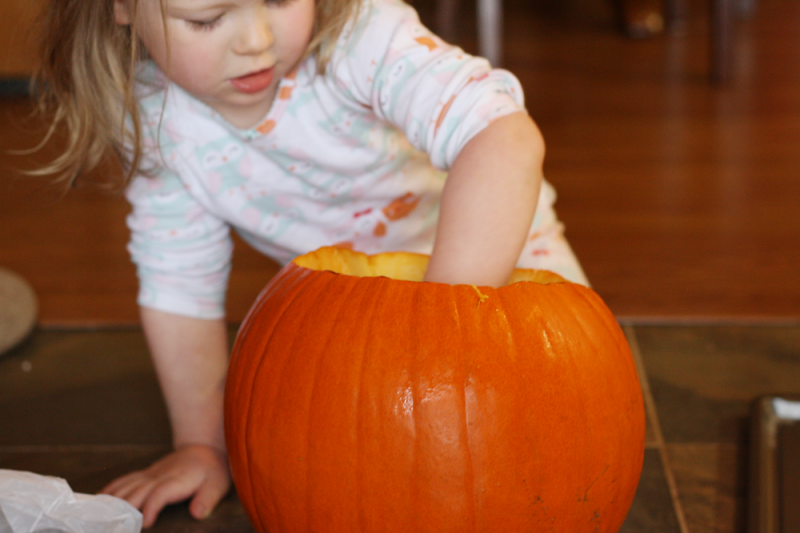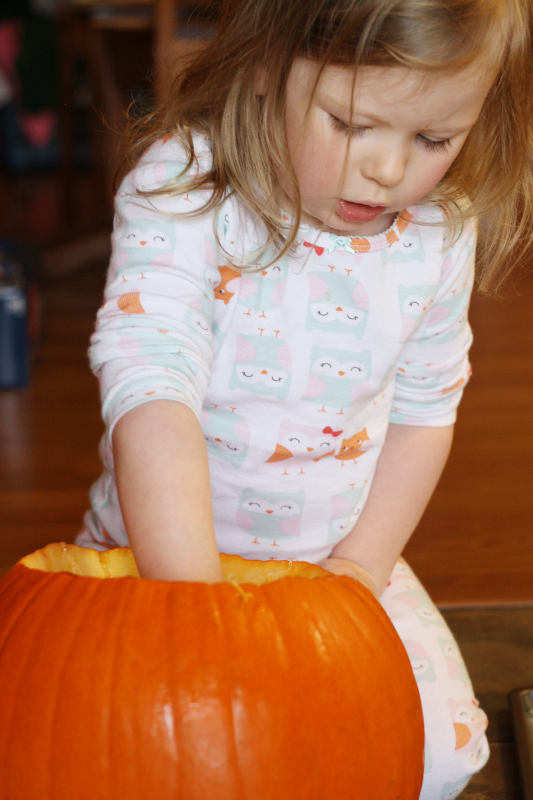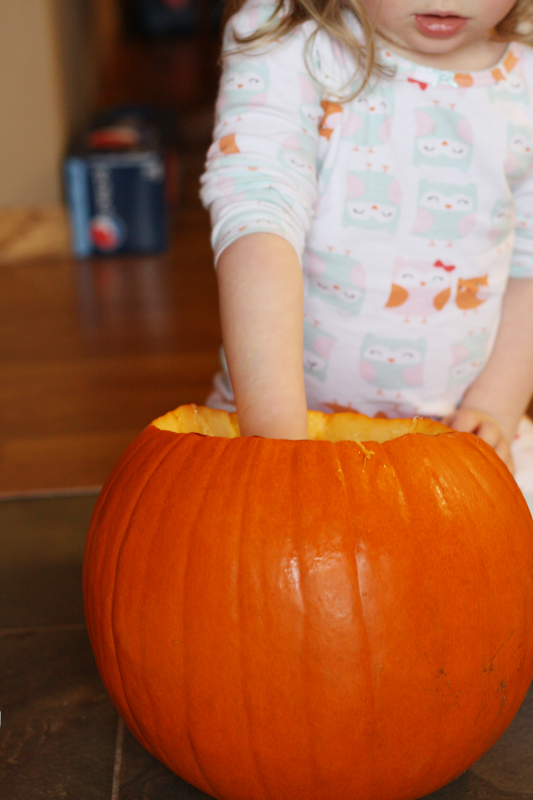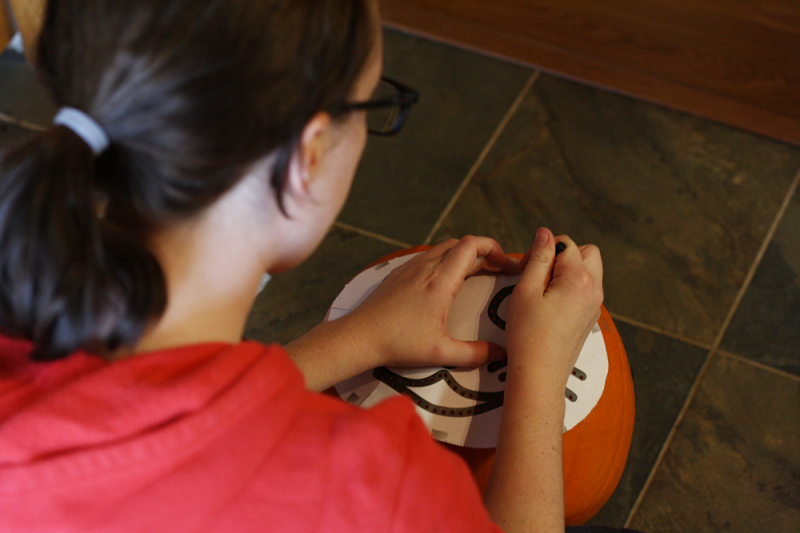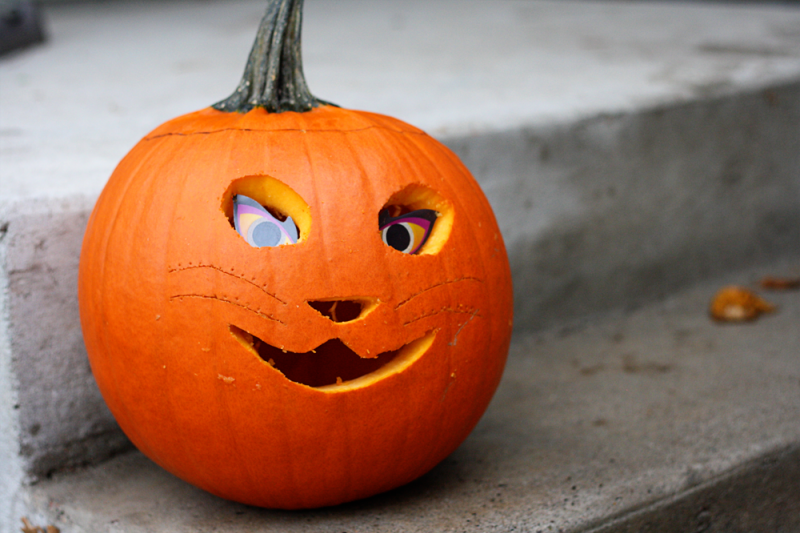 I was so excited when Alea was actually willing to reach inside the pumpkin and do a little scraping and guts-removal herself. She dug right in, with a silly disgusted look on her face, and went to town. Last Halloween, she wouldn't even go near the slimy part of the pumpkin, but this year it was fun to have her more involved. I told her to just go to town and "show that pumpkin who's boss," so while she was scraping her pumpkin out she kept saying, "Pumpkin, I'm the boss!" It was hilarious!
How do you think I did? The cat's pretty darn cute, isn't it? I have to admit. It's not perfect, but I think I did a pretty darn good job for this being only my second time carving a pumpkin without any assistance. Now we have another pumpkin carving session planned, I'll break out another
Pumpkin Masters carving kit
and go to town! I can't wait! We might even have to grab a couple more at Target!
Are you ridiculously awesome at carving pumpkins? Then snap a couple pictures of your pumpkin carving creations and upload it to Twitter or Instagram using the hashtag #PumpkinMasters2013 or email them to social@pumpkinmasters.com to enter the Pumpkin Masters Carving Contest! You could win one of six prizes, including $5,000 for the Best Pumpkin. Hurry! They're accepting entries until October 31st!
Have you carved your pumpkins yet? What are you going to carve?
I was selected for this opportunity as a member of Clever Girls Collective and the content and opinions expressed here are all my own.
Click below to visit this month's featured sponsor: