I have a bit of a confession to make. I've become a bit of a font-snob and font-obsessed lately. A font can change everything about a picture, an image, and even look of your blog. I'm drawn towards more clean and curly fonts than cutesy fonts, but that's just what I love. I can spend hours (if I had the time) searching out fonts on Pinterest or my favorite graphic design blogs. We're probably on the verge of an addiction over here.
I've actually been known to tweet or e-mail another blogger if I can't figure out what font they're using on their images or on their blog. It literally drives me crazy. But the funny thing is, I usually spend forever looking for the font and trying to figure it out before I finally break down and just ask them. It's silly really, but I kind of enjoy the hunt!
I'm so excited to share some of my favorite fonts with you. I hope you enjoy them as much as I do. And seriously, don't pull your hair out looking for a font you see on my blog. If you're curious about it– just ask! I will be more than happy to share!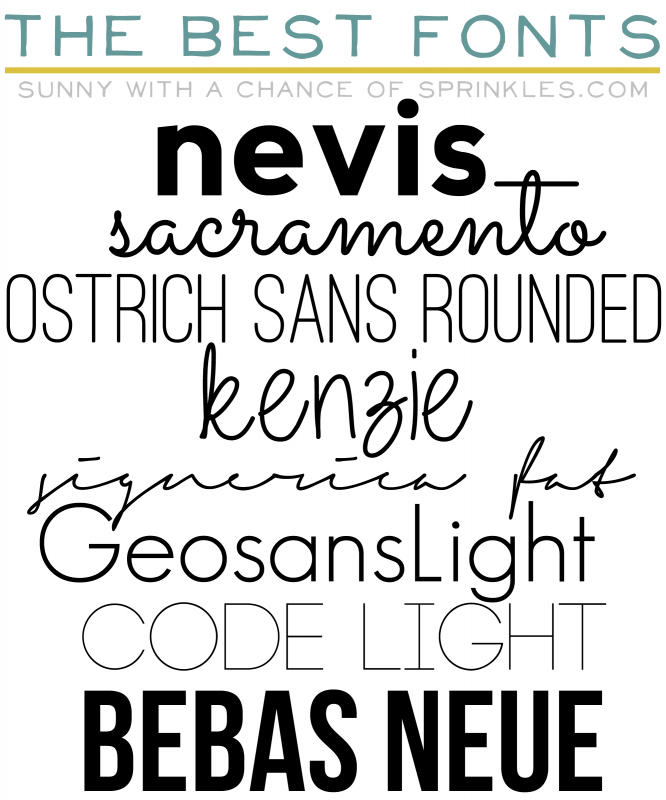 Nevis
Sacramento
Ostrich Sans Rounded
Kenzie
Signerica Fat
GeosansLight
Code Light
Bebas Neue
Now tell me, what are your favorite fonts?
Click below to visit this month's featured sponsor: