Now that it's fall I've been drooling over all kinds of pumpkin desserts on Pinterest, haven't you? Last year I shared my favorite mug cake recipe, but this year I decided to do a fun pumpkin spice twist on the original. I've been dreaming up this pumpkin spice mug cake recipe in my head since August and I've finally made time to try it and perfect it. I hope you love it as much as I do!
Ingredients:
1. Spice cake mix
2. Angel food cake mix
3. Pumpkin pie spice
4. Pumpkin spice coffee creamer
5. Pumpkin puree
6. Whipped cream (of course!)
Recipe:
1. Combine spice cake mix and angel food cake mix together in a resealable, air tight container.
2. Scoop three tablespoons of the combined cake mix into a mug.
3. Add 1 tablespoon of pumpkin spice coffee creamer.
4. Add 2 tablespoons of pumpkin puree.
5. Sprinkle in a dash or two of pumpkin pie spice.
6. Next, add two tablespoons of water.
7. Stir the mixture with a fork, making sure to get all of the clumps out.
8. Microwave on high for 1 minute.
9. Top with whipped cream and enjoy!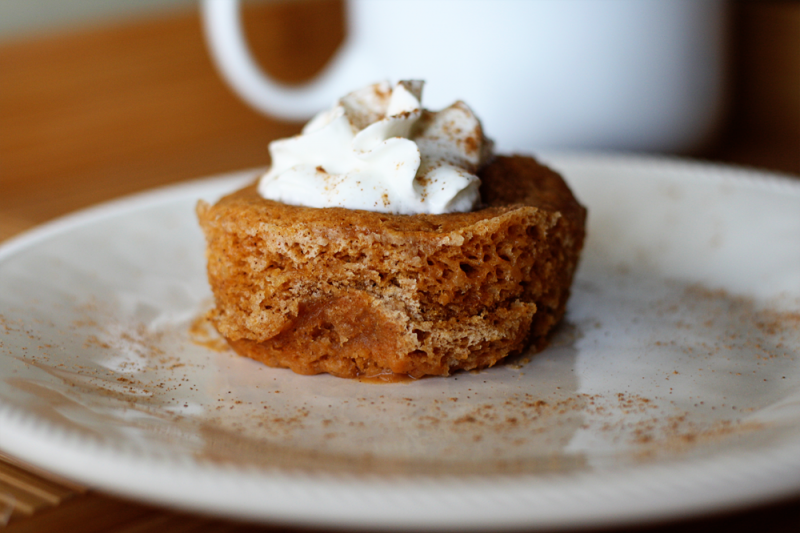 Delicious, right? I couldn't help but make not one, but two of these for myself one afternoon while Alea was napping. It wasn't exactly the healthiest afternoon snack I could have chosen, but there's probably nothing more delicious. My favorite part of mug cakes is that it's a small serving of a sweet dessert that can satisfy your sweet tooth without throwing your entire day of healthy eating out the window. (That is unless you make two mug cakes like I did!)
And speaking of pumpkin flavored everything, I can't forget to mention the crock-pot pumpkin spice coffee I made last year! It's seriously amazing if you're a die-hard coffee fan and pumpkin fan like myself. Combine the two together and you've got magic my friends. Pure magic!
What are your favorite pumpkin recipes?
Linking up with House of Rose
Click below to visit this month's featured sponsor: