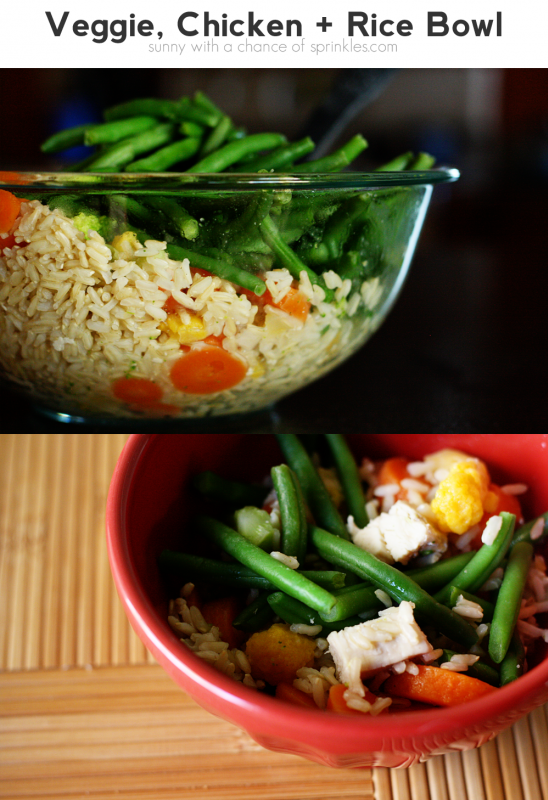 This post is sponsored by Green Giant, however, all opinions are my own.
If I've learned anything at all this semester and through this healthy eating journey I've embarked on, it's that I cannot be successful unless the meals I make are ridiculously easy to prepare. And by easy I mean that from start to finish it will be on my table in 30 minutes or less. I don't mess around… I don't have time to! As much as I love Gwyneth Paltrow and all of her natural and clean-eating ways, I just know I couldn't go that far. There's no way I could ever take extra time out of my day (what extra time?) to make my own dressings and prepare literally everything from scratch. I barely have enough time to squeeze in a shower and check off less than half of the things on my to do list. Insert nursing student problems and mother to a crazy three-year-old hashtag here.
All that being said, it's been my mission to keep it simple. Simple to me before was driving through the Taco Bell drive-thru for a bean burrito, so I needed something so simple it was comparable to someone else preparing and handing me my dinner. I make myself sound awfully lazy, don't I? It's true, I'm lazy in the kitchen. Cooking isn't something I absolutely love to do and that's where I fall victim to drive-thrus and microwaved chicken nuggets.
Enter… this recipe.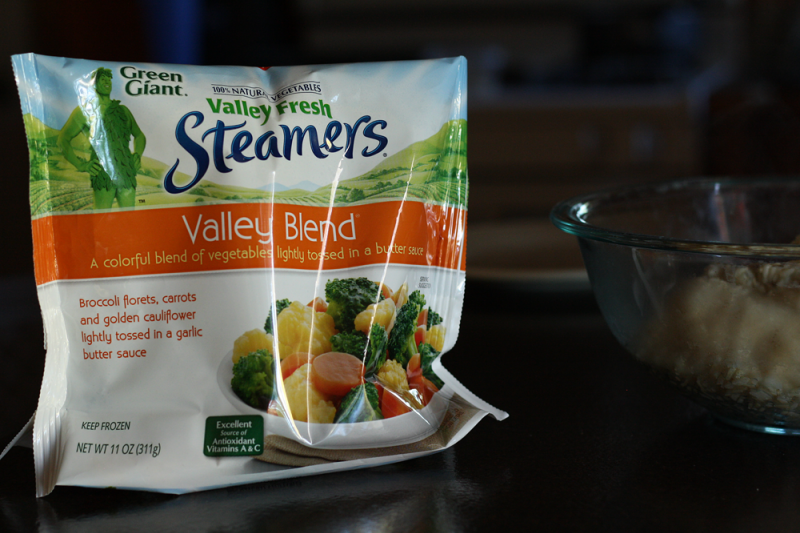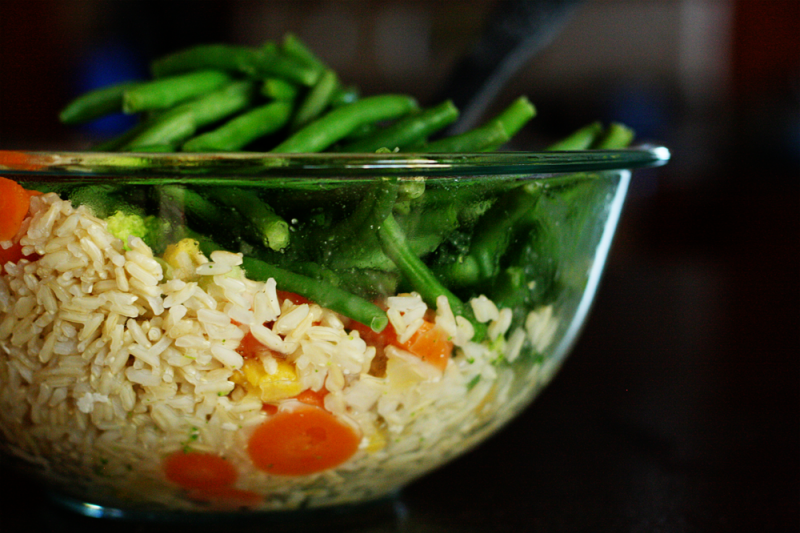 Ingredients:
1. Boneless, skinless chicken breasts
2. Brown rice
3. Green Giant Steamers Vegetables (I used the Valley Blend.)
4. Green Giant Steamers Green Beans
(I added the green beans last minute because there just wasn't enough vegetables. Yeah, you heard me right!)
Cooking for Dummies:
1. Boil 2 boneless skinless chicken breasts until thoroughly cooked.
2. Also, prepare brown rice according to instructions on package.
3. Cube chicken breasts.
4. Toss your Green Giant Steamers Vegetables into the microwave and nuke according to package instructions.
5. Combine your ingredients in a large bowl and mix together.
At this point I then split it up into a 2-3 small containers if I'm not going to eat it right away so that way I have a couple microwavable meals to have on hand because, like I said a thousand times, I'm just plain lazy!
And now you can laugh hysterically because you just read a "recipe". A recipe with quotation marks that really only requires mixing ingredients together. Like I said, I need easy-to-prepare meals that also keep me on this healthy eating bandwagon. And I have to say, I'm so happy that I jumped on this bandwagon in the first place. When I was eating crap for breakfast, lunch, and dinner I always rolled my eyes at the people who said that eating healthy "gave them more energy." I would just giggle and think to myself that they must have had an extra cup of coffee, but now I know what they mean! Now that I've teamed up with Green Giant and Dr. V I really do feel like I have more energy and am feeling so much better about myself and the changes I've been making. I don't think I've lost any weight (we don't own a scale), but I feel more comfortable in my skin. It's like I felt bad about my body because of what I was putting into it. Now that I'm consuming more vegetables and being more conscious of what I eat and how much I eat, it's like a whole new mindset for me. I can't explain it!
Even though this is probably one of the simplest recipes I've posted, I hope that it wasn't all for nothing and that you too, walk away with some easy, but healthy meal ideas to keep you stay on this bandwagon as well!
Here was my advice from Dr. V herself this week: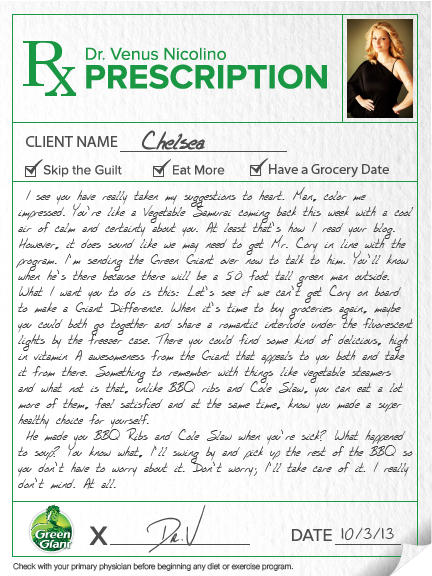 Thank you to Green Giant for sponsoring this post + helping me find a healthier lifestyle!
Click below to visit this month's featured sponsor: