The product + post seen below have been sponsored by Gracie B. as part of their "Transitioning Into Fall" campaign. However, all opinions are my own.
If you would've told me I would be this excited for cooler weather and the season leading up to winter this past spring, I would have laughed at you. I'm all about being outside and enjoying the sunshine, but I can only take so much of that before I'm yearning for sweatshirts and the creamy deliciousness of the pumpkin spice latte. I know I'll miss the simplicity and carefree ways of summertime, but for now, I'm embracing fall with wide open arms!
I'm excited to share an outfit with you guys today that I took from summer to fall. The weather right now is kind of goofy in a sense. It's a chilly 60-ish degrees when I leave for school in the morning so I dress for cooler weather and then by the time I leave school I'm regretting the adorable sweater I decided on wearing on my way out the door. This adorable chambray dress is perfect for styling either cooler for summertime or warmer for that brisk, cool fall air we all love so much.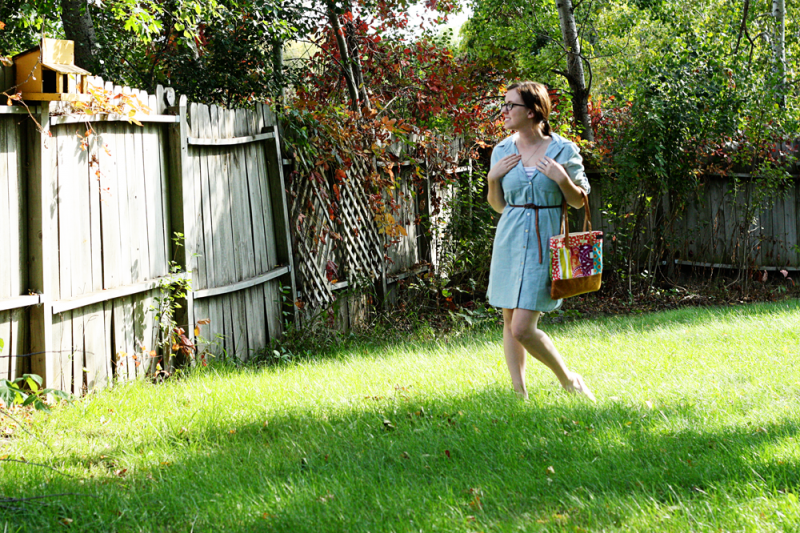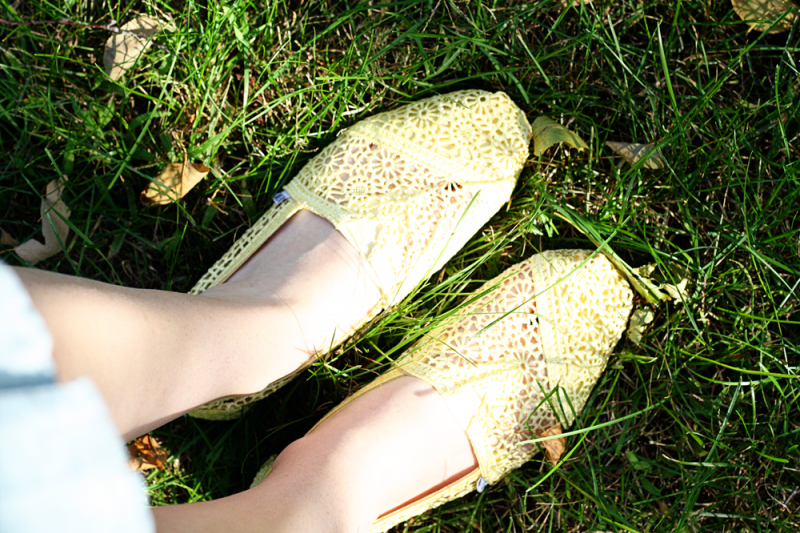 Dress c/o: Gracie B | Shoes: Toms | Bag: Better Life Bags | Belt: Target
This is perfect for those warmer fall afternoons, or even those warmer summer days. Even with the sleeves, the fabric is breathable and flows enough that you won't be sweltering in the hot sun! But, it's easy enough to transform into a warmer outfit as well. The sleeves roll down to a full-length sleeve and you can accessorize in so many ways.
Dressing for summer, for me, just isn't the same as dressing for fall. There's just something so exciting about a pair of tall brown boots, scarves, hats, and cozy cardigans. There's so much more you can work with when the temperatures go down! In the summer, I find myself keeping things pretty minimal and shorts + t-shirts or a simple maxi dress do the trick. Anything more than that gets to be a bit much with the overwhelming humidity here in Minnesota. But when fall rolls around? That's a whole other story!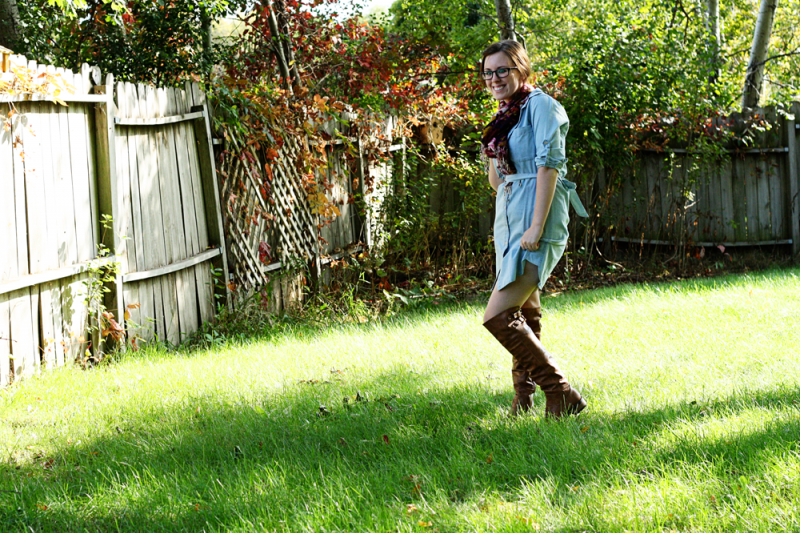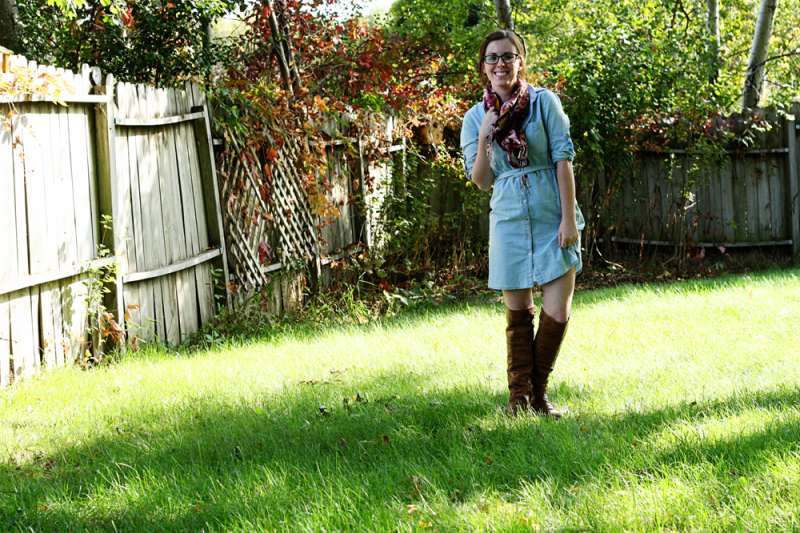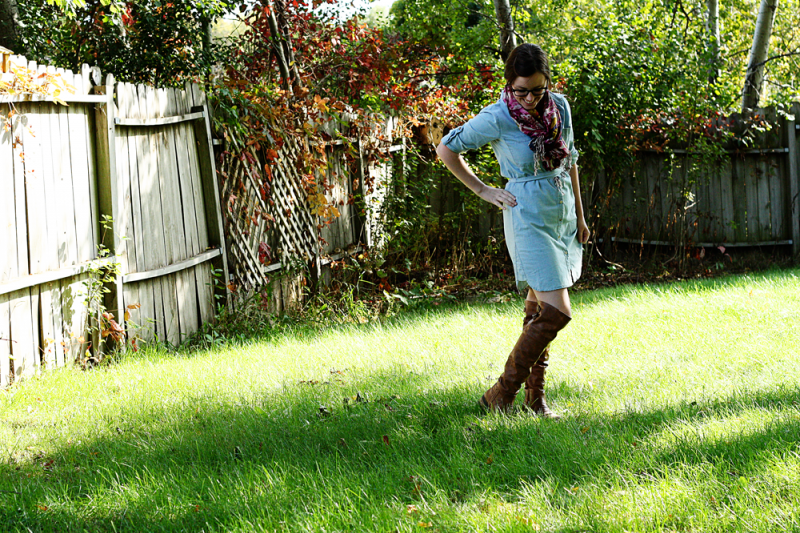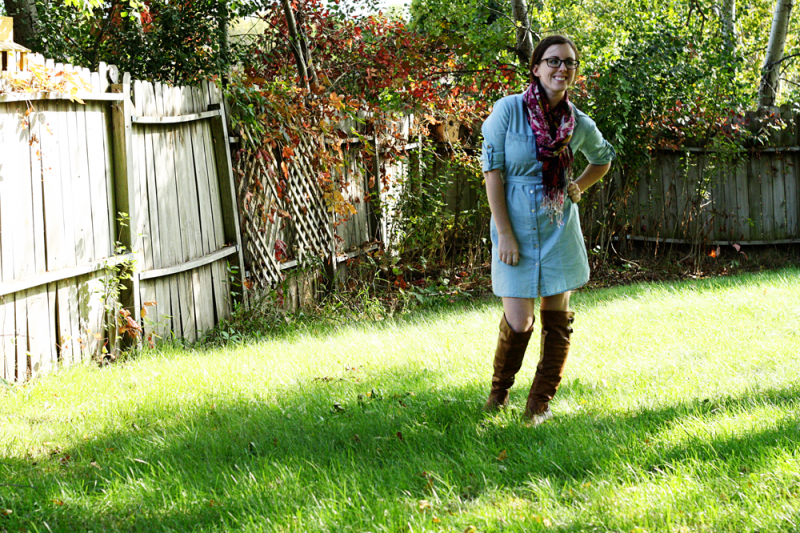 Dress c/o: Gracie B | Scarf: Target | Boots: Nectar Clothing
I love that adding a scarf and a pair of brown boots completely transforms this into the perfect autumn outfit. Imagine how cute this would look with a pair of brown or grey ankle boots or with curly hair and a slouchy hat? I can't wait to style this casual dress throughout the fall and maybe into the winter with the addition of a pair of leggings! You can't tell how happy I am that the fall weather has arrived, can you? Honestly, I'd choose tall brown riding boots over flip flops or sandals any day… hands down!
How are you transitioning your summer wardrobe to fall?
Click below to visit this month's featured sponsor: