Happy November! Are you getting as excited for Thanksgiving as I am? I'm not even going to lie. I absolutely love Thanksgiving. Any excuse to have mashed potatoes and gravy and NOT feel horribly guilty about scooping up a second helping… yeah that's my kind of holiday! I know Thanksgiving isn't all about eating extra mashed potatoes and stuffing, of course. There's so many things in our lives to be thankful for. One thing I'm especially thankful for are all awesome people who choose to spend the month on my sidebar.
It's always fun to learn of different bloggers and help support them in any way I can throughout the month. It's just fun 🙂 I love blogging and getting to promote and help other like-minded people is just an added bonus! And their generosity? It never ceases to blow my mind! This month they decided to give one of you lucky readers the opportunity to win $125 to TOMS.com! Wouldn't that be amazing? That's like 2 pairs of adult shoes or 3 pairs of shoes for the kiddos in your life! Perfect timing for Christmas, too!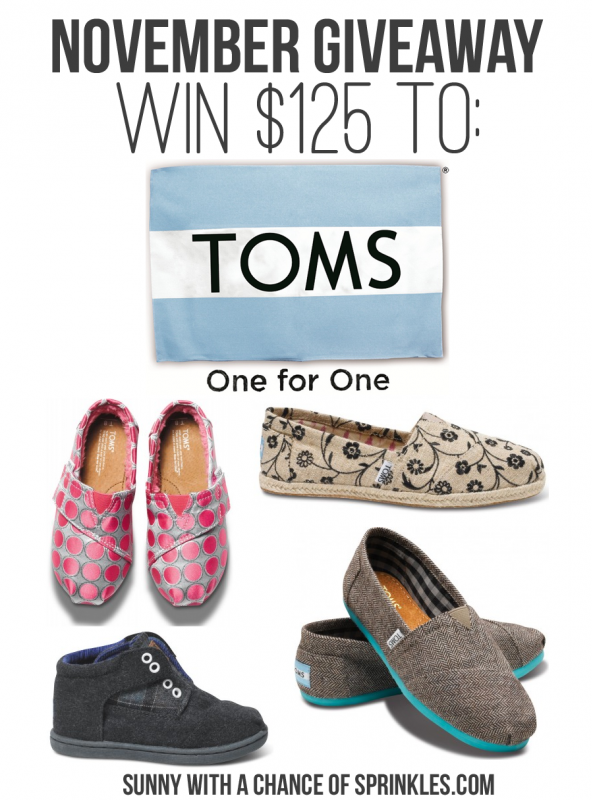 And if you're interested in participating in next month's giveaway feel free to use the code:
oneforone
to get 20% off any ad space! I would absolutely
love
to have you! Just head on over to my
advertising page
and purchase your ad!
Now get to entering!
Click below to visit this month's featured sponsor: