This is a sponsored post written by me on behalf of The Honest Company.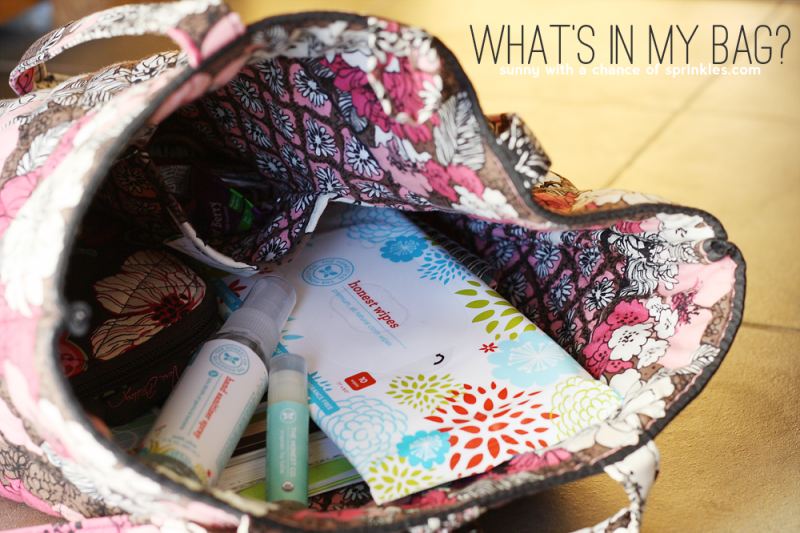 I don't know about you, but one of the reasons I absolutely love to read blogs is because I'm an extremely nosy person. There. I said it! I just love that blogging gives a little sneak peak and inside look into the lives of others. It's so fun to see what everyone's up to and I gain a lot of inspiration from those in the blogging community. And taking a peak inside a blogger's bag or purse in these "what's in my bag" type post are always my favorite to read.
I can't promise you that I didn't toss out some receipts that were lost in the bottom of my bag or that my purse was this neat and tidy, but these are things I keep with me and take with me wherever we go. Take a look: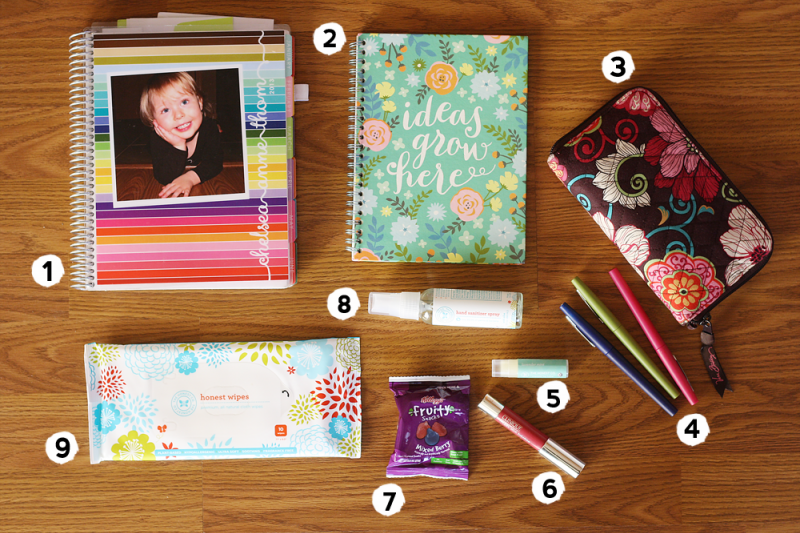 1 | my Erin Condren planner:
It'll be a cold day in "heck" when I leave the house without my planner in tow.
2 | my blogging notebook:
You never know when inspiration is going to strike or when a brilliant idea for a blog post is going to pop into your head. I've come up with some really great ideas while driving or when I'm out and about that I've completely forgotten about because I haven't been able to write them down. I'll never leave the house without my notebook again!
3 | my Vera Bradley wallet:
Now this is just self-explanatory. I need my monies and my drivers license, don't I?
4 | Papermate Flair pens:
The only pens I use. (And that's saying a lot coming from a pen-obsessed girl like myself!)
5 | Honest Company lip balm:
These lip balms come in a pack of three, but let me tell you, I think my 3-pack is going to last me a while. A little big goes a long ways! It's super creamy and glides right on your lips leaving them supple and soft. This cold and dry weather has really been doing a number on my lips lately, but after just a few applications of this lip balm, they're definitely not as chapped!
6 | Clinque chubby stick:
This is for when I'm feeling extra fancy and looking for a little color on my lips. It's amazing how a little color can completely change your look and brighten up your face!
7 | fruit snacks:
Nobody likes it when a cranky child interrupts the amazing serenity of a Target run, right? I always go armed with reinforcements.
8 | Honest Company hand sanitizer spray:
Do you know how germy those pretty red carts are at Target? Me either, but I really don't want to know. I do know that spraying this handy sanitizer on your hands and on your kiddos hands helps kill 99.9% of those yucky germs though. That'll definitely come in handy this cold and flu season!
9 | Honest Company wipes:
I've been out and about one too many times without wet wipes to know that I am
never
leaving the house without them again. There's been too many sticky fingers, messy faces, and too many moments where I literally kicked myself for not having a pack of these in my purse. These are slim enough to not take up my entire bag, but they still get the job done when life (a.k.a. my 3-year-old child) gets messy.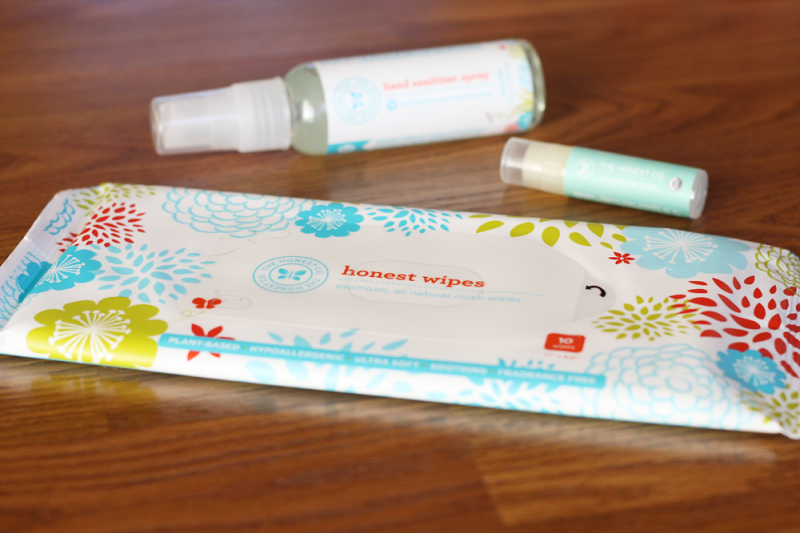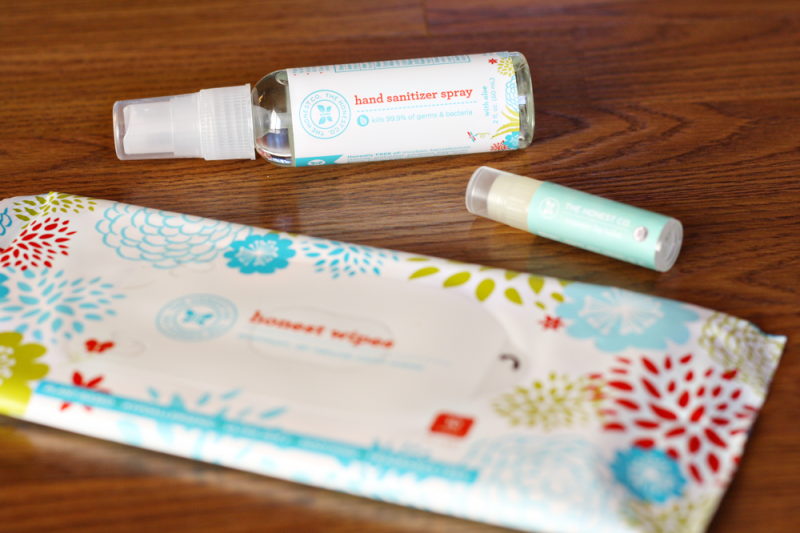 If you haven't noticed a pattern yet, let me point out to you that I absolutely love
The Honest Company
products and what they stand for. After transforming our
laundry routine
last spring, I thought it was about time to transform the things I keep in my bag as well. Transitioning our home to a healthier, more natural and eco-friendly home has been a process for us, but we're certainly headed in the right direction. I feel so much better using products on Alea that don't contain unnecessary or harmful toxins.
And with The Honest Company's products, I'm never left questioning whether or not they're safe for me to use myself or on Alea. I just know. They're hypoallergenic for her sensitive skin and their products just give me a piece of mind. And that's absolutely priceless. And they're adorable packaging? That's just a bonus!
Are you interested in getting some of these awesome goodies for your bag? Who doesn't like to save a couple bucks, right?
You can get $10 off a $40 purchase by using the code: Sway10off40 at The Honest Company.
Coupon code applies to U.S. and Canadian residents only (one per customer). Valid for first-time orders only. Expires November 17, 2013.
Giveaway Details:
The giveaway will be open from November 12 at 12:00 AM PST to November 20 at 12:00 AM PST.
Participants may enter by following the instructions in the Rafflecopter.
One winner (from all 15 giveaways) will receive a gift card to The Honest Company (a $500 value).
Winner will be announced on November 22, 2013 via The Honest Company's Facebook page.
If I were to take a peak inside your bag right now, what products would I find?
This is a sponsored post written by me on behalf of The Honest Company.
For more information, visit http://www.honest.com.
Click below to visit this month's featured sponsor: