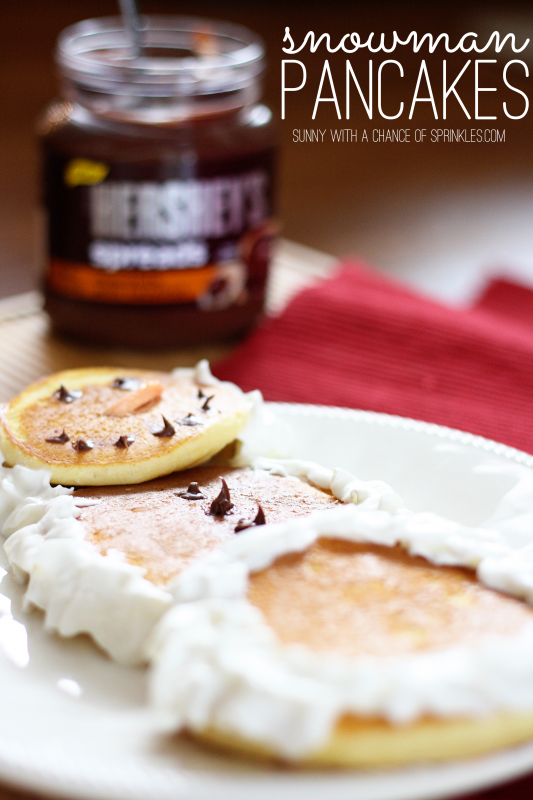 I created these delicious snowman pancakes with the help of Hershey's™ Spreads as part of a sponsored post for Social Stars. #SpreadPossibilities #HersheysHeroes
We started doing the whole "Elf on the Shelf" thing
way
late this year. Let's just say that our elf, Coal, didn't make her appearance until we finally cleared the cobwebs that have accumulated in our basement storage closet and broke out the Christmas decorations 2 weeks after Thanksgiving. Whoops! I'm proud to say that Coal is moved to a different location each night and Alea's been extremely excited to find her each morning after she wakes up, however, I've been kind of bummed that I haven't had as much time (or motivation) to do more fun and interesting things with our elf.
However, last Sunday morning, our elf Coal decided to surprise Alea with these fun make-your-own snowman pancakes! (If you're wondering, I made the ones pictured above, but Alea loved smothering her own pancakes and creating her silly frosty the snowman guy! Your kids will LOVE the surprise and excitement of this fun breakfast!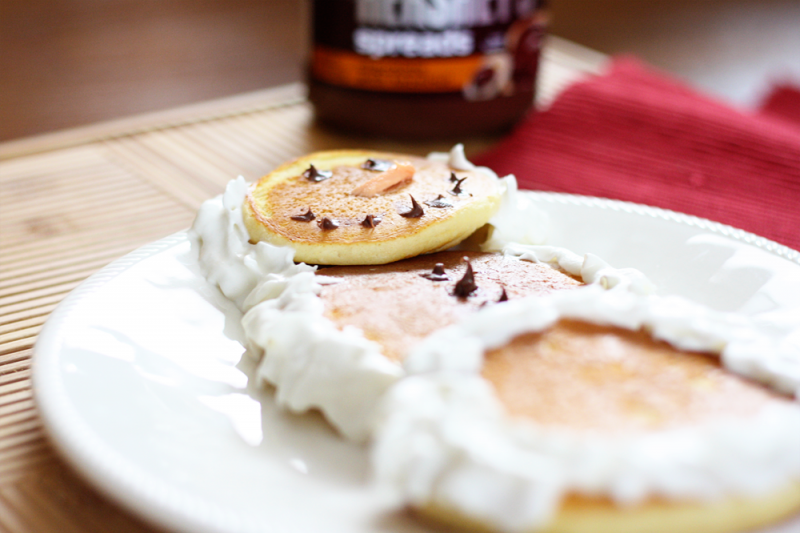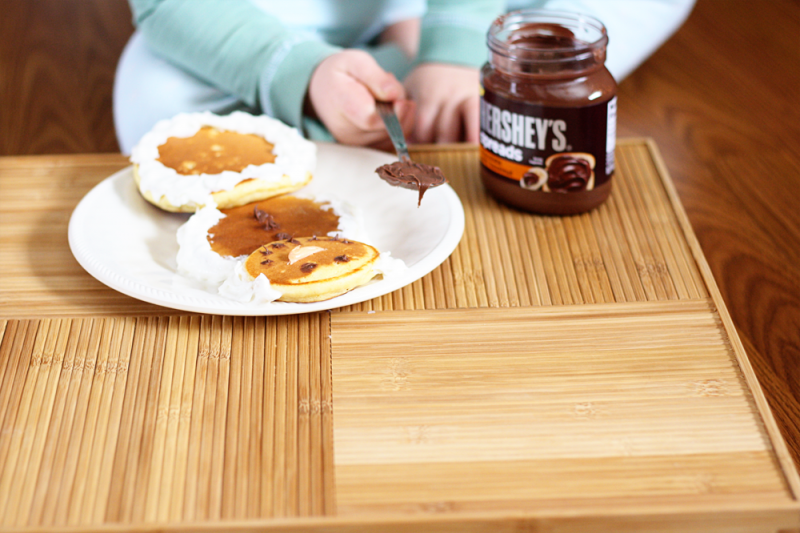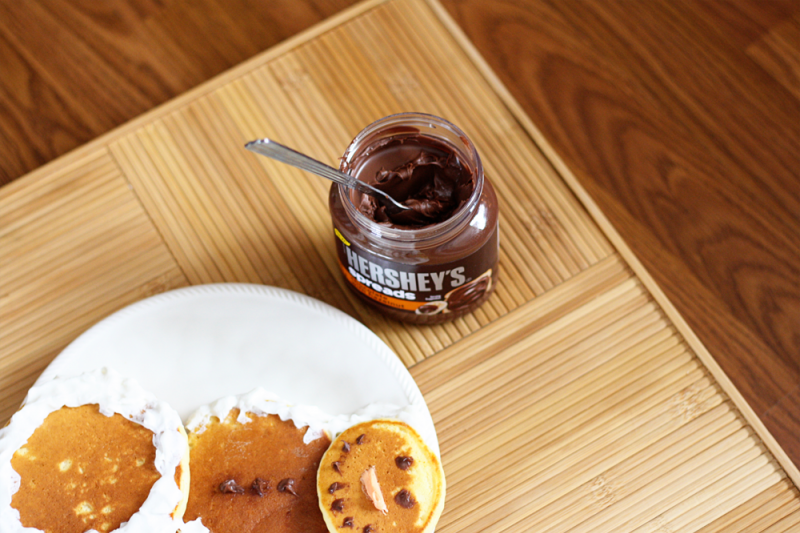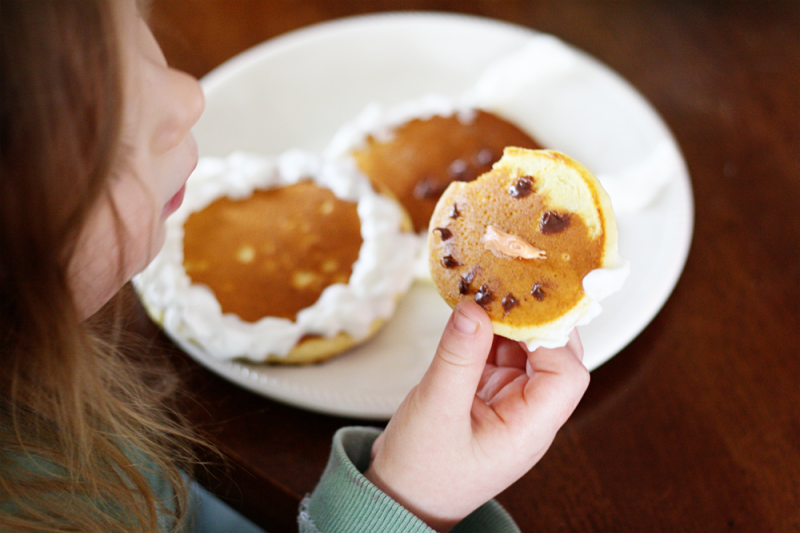 Ingredients:
1. Pancake mix
2. Milk
3. 1 Egg
4. Hershey's™ Spreads
(in either chocolate, chocolate w/almond or chocolate w/hazelnut)
5. Whipped cream
6. Frosting
7. Food coloring
Instructions:
One: We used just regular old, store-bought pancake mix for pure laziness purposes. We whipped up the mix per the packages instructions and used a non-stick skillet to cook up the pancakes. Just don't forget to make a small-sized, medium-sized and bigger-sized circular pancakes for your three snowballs! (Let's just pretend I didn't burn the first batch… I rarely make pancakes. It's usually Cory's job!)
Two: Let the pancakes cool so the frosting, chocolate, and whipped cream don't melt.
Three: Once the pancakes are cooled off, let your kiddo go to down decorating their three pancakes! Use the Hershey's™ Spreads for the button nose, the two eyes made out of coal and the buttons going down the middle snowball.
Four: Then, add a little red food coloring to white frosting to make the orange nose. Or you could always use a sprinkle or whatever tickles your fancy!
Five: Surround the edges of each "snowball" with whipped cream to finish your snowman look.
*Note:* Sure, it's a sugary breakfast, but for something she'll have once in a blue moon, it's totally worth the smile and excitement!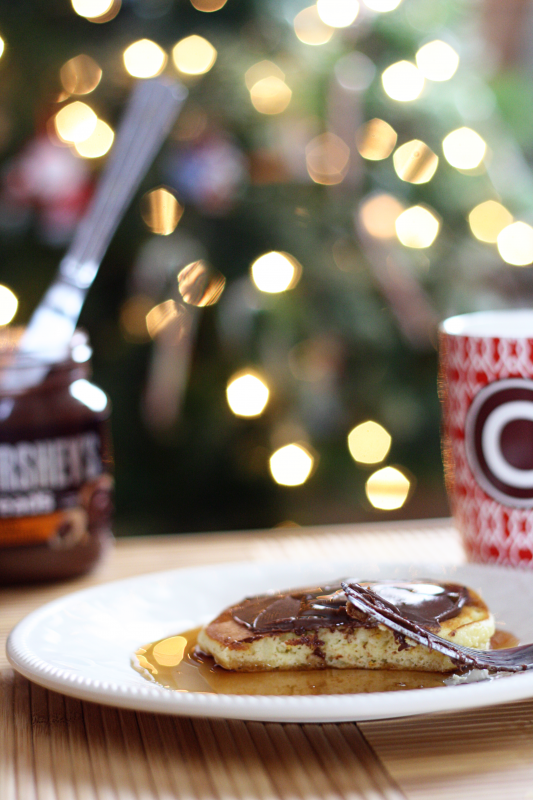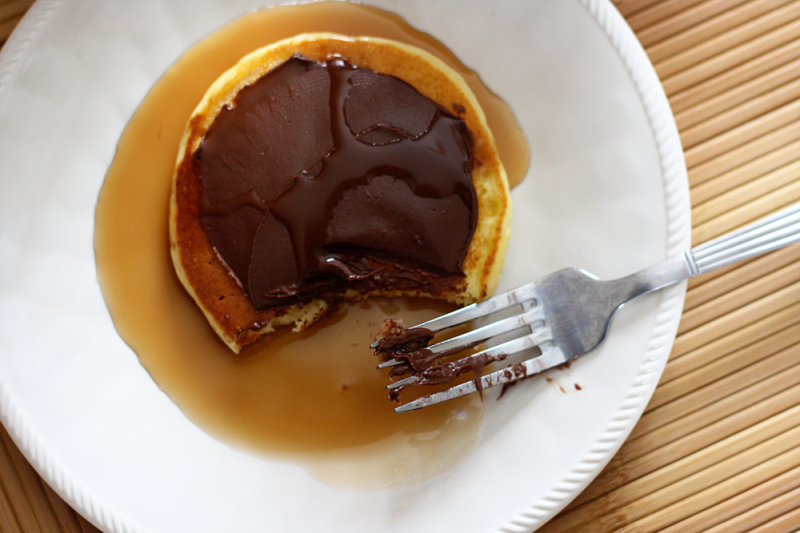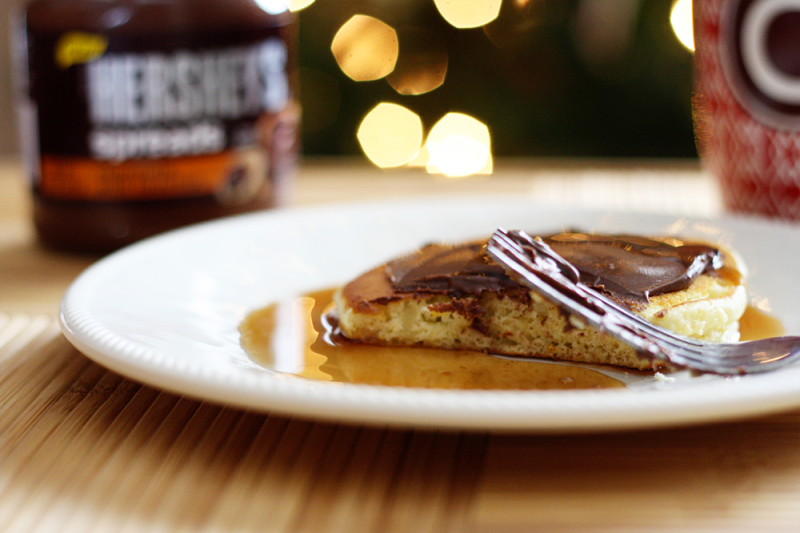 I decided that I couldn't just let Alea have all the fun with her breakfast and decided to cure my morning sweet tooth with this yummy Hershey's™ Spread as well. You know how some people put peanut butter on your pancakes and then pour syrup over it? I've never really been a fan of that. This hazelnut spread though? Yeah, I'm pretty sure regular old pancakes just won't cut it anymore. SO-DELICIOUS!
I'm not sure where you live, but we have snow days here in Minnesota– can you imagine how excited your kiddo would be to have this breakfast served to them to celebrate a snow day? Or heck, any old Sunday will do, too! Enjoy! Let me know if you make this + how your kiddos liked their snowman pancakes! (And don't forget to treat yourself, as well!)
What's your favorite special breakfast to make?