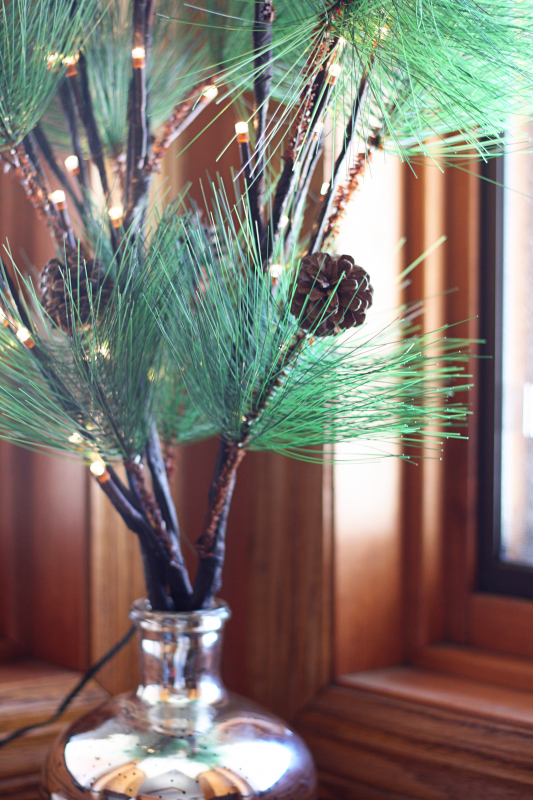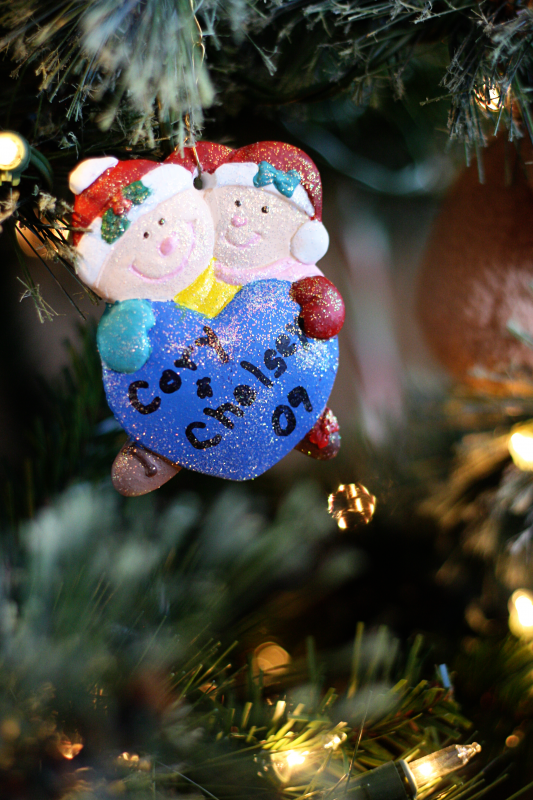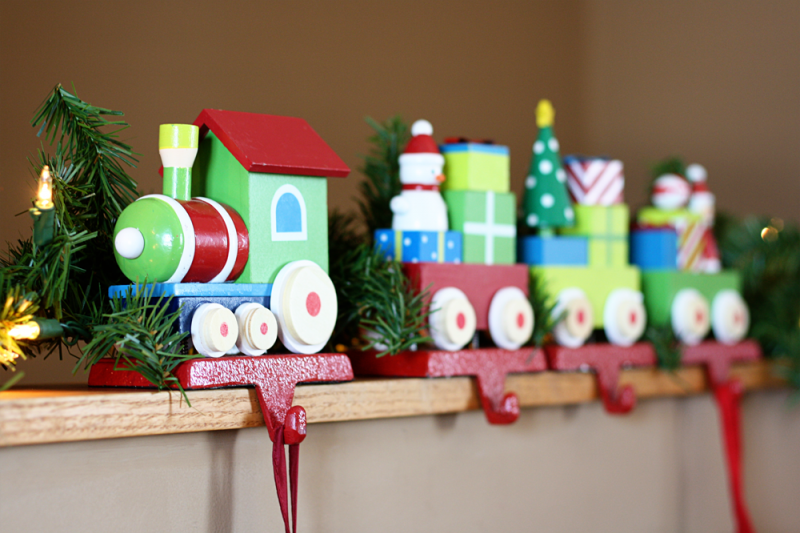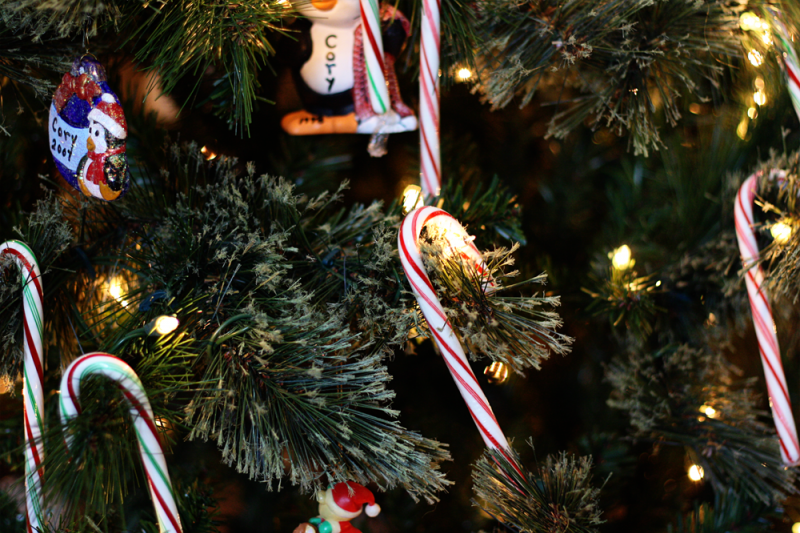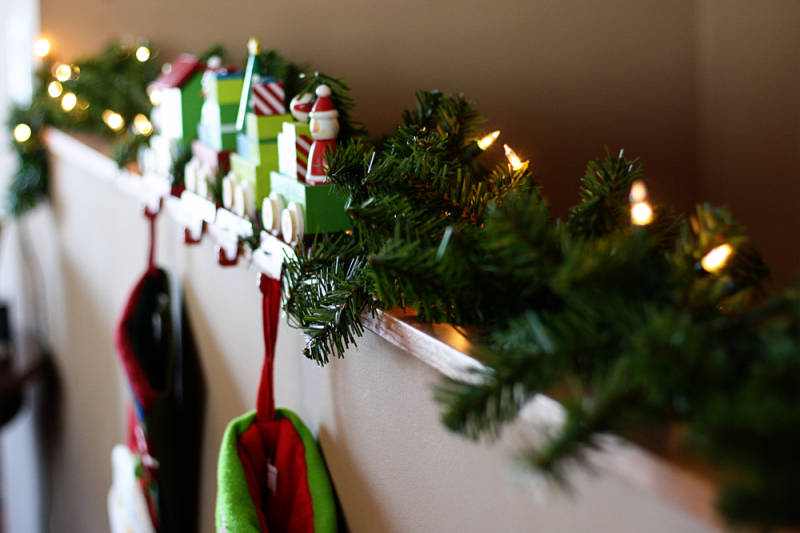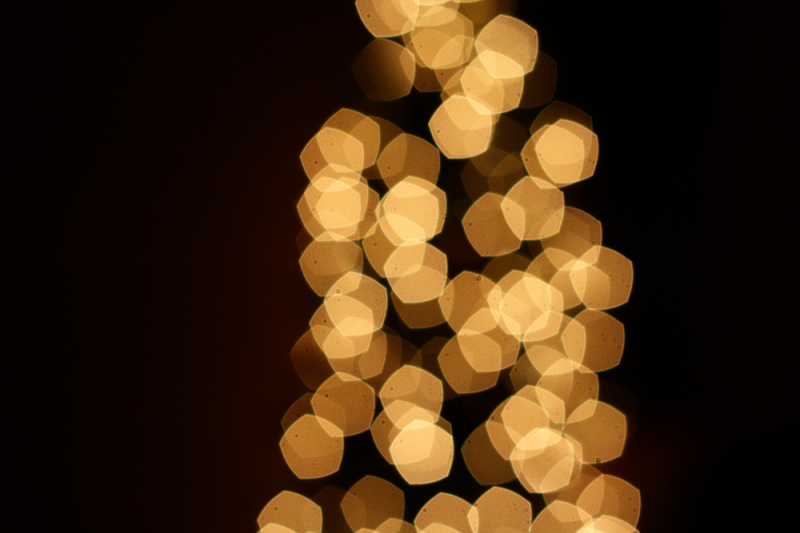 Family time: We already celebrated Christmas at my grandpa + grandma's house this past Sunday. It's always fun to get the whole family together for dinner and presents since we all don't get to see each other a whole lot during the year. Alea had a blast playing with my cousins and I think my cousin, Sarah, convinced me to spend some of my Christmas money on my very on rainbow loom. I totally understand why those things are so popular now! I'm totally obsessed! And the best part of Christmas at my grandparent's house? My grandma (my mom's mom) was nice enough to invite my mom over! I can't even begin to tell you how much that made my Christmas! It felt so good to have my mom, my dad, and all of my dad's side of the family together again. Isn't that the true spirit of the season? Putting all of our differences aside? Thanks again Grandma! (My parents have been divorced for 3 years this past November).
Christmas decorations: This year I love our Christmas decorations even more than any other year. We splurged a bit and bought a new Christmas tree, new stocking holders, garland and that adorable vase with the sprigs and lights for our decor this year. I absolutely love it all! Most of our Christmas decorations (including our Christmas tree) were hand-me-downs or purchased at garage sales over the years. And while that's wonderful and everything, it feels good to finally have more decorations that are "ours" and that we picked out! It still makes me giggle that a majority of the ornaments on our tree say "Cory" from his childhood and that the ornaments that his Grandma made me all say "Chelsey"– with a "y". I just don't have the heart to tell her that it's "sea". It makes me smile, though! 🙂
Reliving Christmas through Alea's eyes: Just like with our Christmas Eve tradition, I love doing little things like that and seeing the excitement in her eyes. I know that Christmas isn't all about presents and the material things, but it's still so exciting to see her run over to the tree on Christmas morning to open presents from Santa and Cory and I!
Giving to those in need: And as much as I love seeing her excited about opening presents for herself, I love seeing her excited to give to others as well. We were able to partner with Kohls this year to give Christmas to a local family and I can't even express how happy my heart was when I saw how excited she was to pick out presents for that little girl!
Egg nog: Seriously? Egg nog is the bomb.com if you ask me. And I haven't even had a sip of it yet this holiday season! It's a travesty! I'm adding it to Cory's grocery list right now as we speak. And my mouth may be watering while I do it. Yum!
Giving gifts: I was so excited while I wrapped present (and drank wine) on Saturday before we celebrated Christmas with my dad's side of the family. I love collecting ideas for everyone and going out shopping. Even if I end up finishing my shopping the Saturday before Christmas and get the evil eye when I take the last cart at Target. Oops!
>>>>>>>>>>>>>>>>>>>><<<<<<<<<<<<<<<<<<<<
For Christmas Eve this evening we'll be celebrating with my mom, my little brother, my grandma and grandpa and possibly my dad! I can't wait to have them all over at my house for hors d'oeuvres (and EGG NOG!) and I can't wait to build Alea's gingerbread house with her! She's going to be so excited. Cue the Christmas music and the Christmas cheer! I'm so ready to get this holiday started!
We wish you the merriest of Christmas' and the Happiest of Holidays!
Click below to visit this month's featured sponsor: