I've shared this recipe before on the blog, but it was definitely a while ago back when I first started this blog! Cory made this easy little recipe when we hosted Christmas eve at our house and it made me want to share it all over again. It's not really New Years diet friendly by any means, but it's so, so delicious.
You know pickle wraps, right? Where you roll a pickle in ham and cream cheese and then cut the pickle into bite size pieces? This is a play on that, but it's so much easier. It takes away the difficult spreading of the cream cheese, wrapping and cutting that comes with the traditional pickle wraps. That part seriously drives me insane!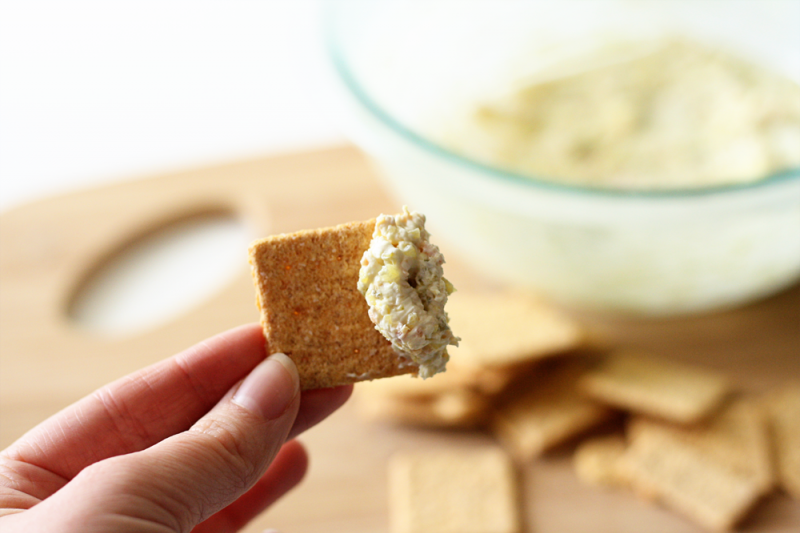 Pickle Wrap Dip Ingredients:
2 blocks of cream cheese
8-10 pickles (big dills)
Ham 8-10 slices
1/2 cup of pickle juice
Cory usually adds pickles and ham to taste.
Instructions:
1. Prior to starting, leave the cream cheese out of the fridge for a bit so it can get soft. You can 'nuke it for 10-15 seconds to soften if needed.
2. Use a food processor or chopper to chop up the ham and the pickles into really small pieces.
3. Mix the pickles and the ham in with the cream cheese.
4. Add pickle juice to soften up the cream cheese and continue mixing.
5. Serve with crackers. Our favorite kind to serve it with are Wheat Thins
Mmm! How perfect would this be for Super Bowl Sunday? Just saying– my family LOVES this recipe and I'm sure yours will, too. Alea even requested this dip with a spoon and no crackers. No, I did not give into her wishes. I couldn't possibly watch my child eat cream cheese pickle wrap dip with a spoon. That being said, please refrain from doing just that and use crackers as your spoon instead. Although I'm sure you'll be tempted to do otherwise 😉
Click below to visit this month's featured sponsor: