This shop is part of a social shopper marketing insight campaign with Pollinate Media Group™ and Rubbermaid and Sharpie but all my opinions are my own. #pmedia #RubbermaidSharpie http://cmp.ly/3/8vNxcO
Who's getting amped up for the Super Bowl this year? I know we are! It'll be our first super bowl as a family in La Crosse with Cory's side of the family and let me tell you, they do football BIG! Growing up, I always thought my family was into football. I had a couple Vikings jerseys and football would always be on at Thanksgiving and Christmas. Cory's family takes it to a whole other level though. It's almost scary! I was a little intimidated with all the yelling and intent stares at the TV when I first watched a football game with them. It always makes me laugh when we go to family functions on my side of the family, because Cory's a bit of a black sheep with his love for the Packers. My family? They're Vikings all the way. It's sad, really! At least the Packers have a Super Bowl under their belt from just a couple years ago!
I have to admit, I'm still one of those people who thinks "it's just a game," but that doesn't mean I don't want to celebrate the Super Bowl? Now that would be un-American! And not celebrating the Super Bowl would mean missing out on all the food and that's my favorite part! I may not understand all the rules that go into the game of football, but I can certainly understand food and cute little decorations! So, to get more in the "football spirit" with Cory's family this year, I decided to make these adorable football pin wheel cupcake toppers!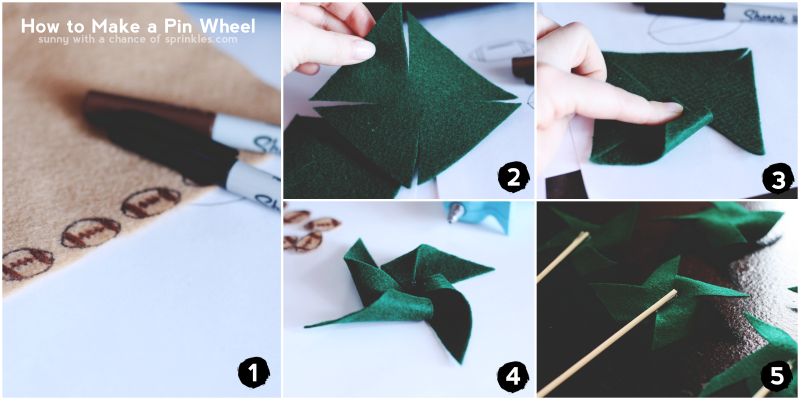 Materials:
1. Felt — two different colors (you can also use card stock paper)
2. Sharpie markers
3. Scissors
4. Hot glue gun
5. Wooden sticks
Instructions:
1. Use your Sharpie markers to draw footballs on the lighter colored felt.
2. Cut out the mini-footballs using your scissors.
3. Next, cut the darker felt into squares, making sure each side is even.
4. Cut a straight line on each corner of the square towards the middle of the square.
5. Using your hot glue gun, glue alternating corners into the middle of the square.
6. Hot glue the mini-footballs into the center of the pin wheel.
7. Hot glue the wooden sticks onto the back of the pin wheel.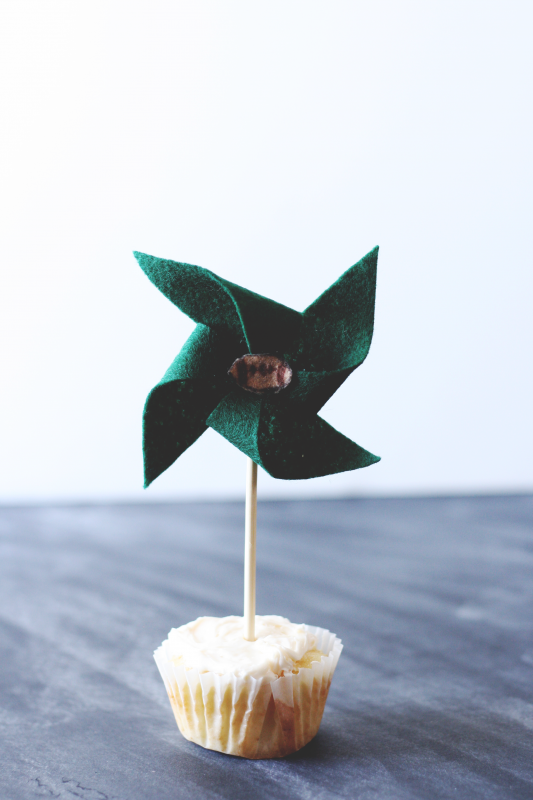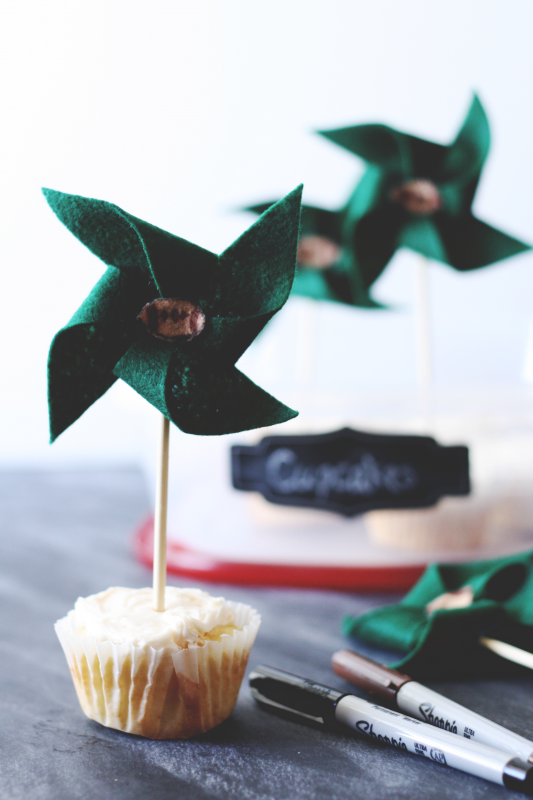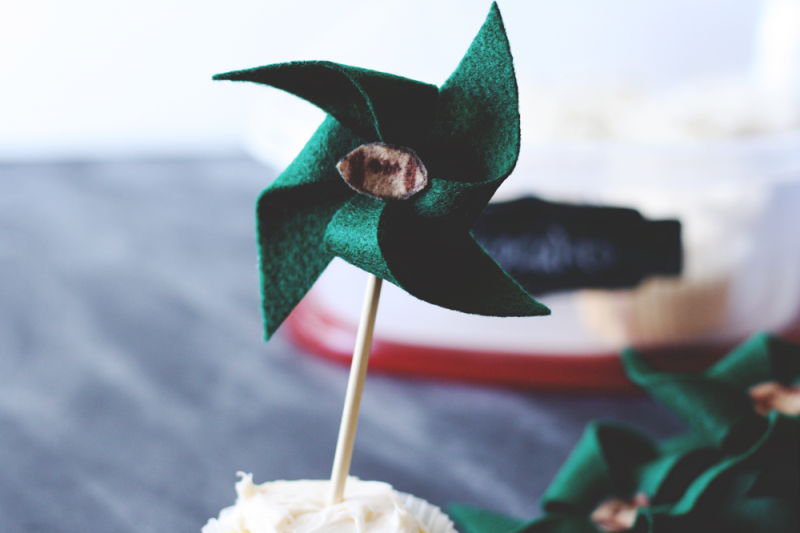 Aren't they just so fun? Now this type of pin wheel won't rotate if you blow on it, but it still makes a fun and whimsical addition to any football or Super Bowl party. To jazz things up even more, I found these fabulous Rubbermaid containers. They're long enough and deep enough to hold plenty of cupcakes without smudging the frosting. We've had so many issues with smudged cupcakes at birthday parties and other celebrations, that I can't tell you how much of an investment this feels like for me!
Instead of just using a plain ol' Rubbermaid Take-A-Long container, I decided to spice things up a bit. And when you find out how easy it is, you'll be labeling all of your containers for your Super Bowl party this year, I just know it! I found these chalkboard labels at Target in the scrapbooking section. You literally just peel off the label and stick it on. Then, using chalk, label what's inside of your container and your guests won't be left questioning what each dip or dish is!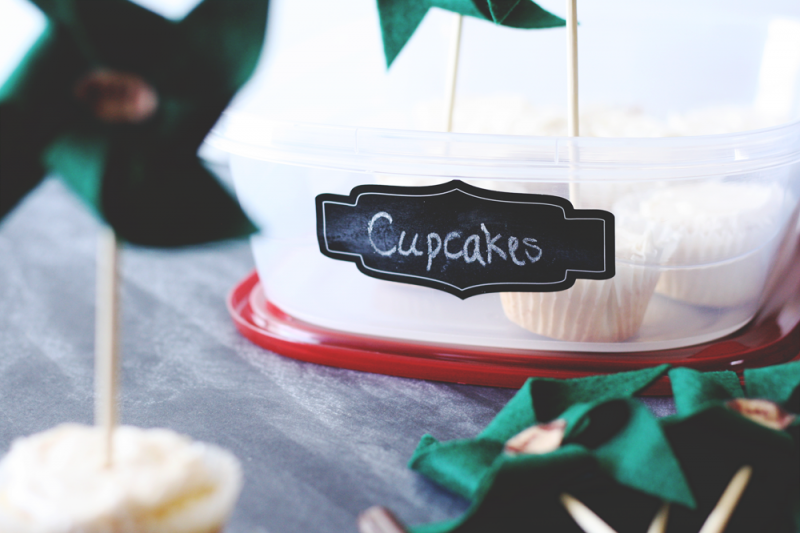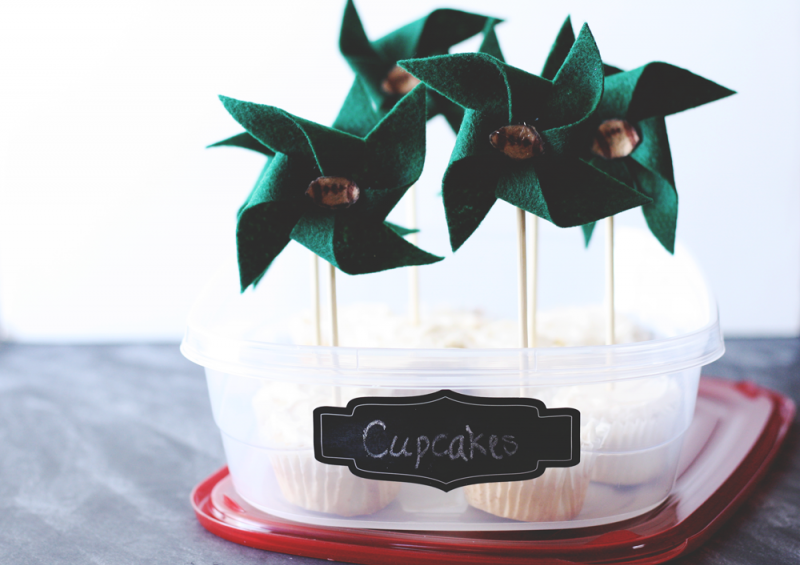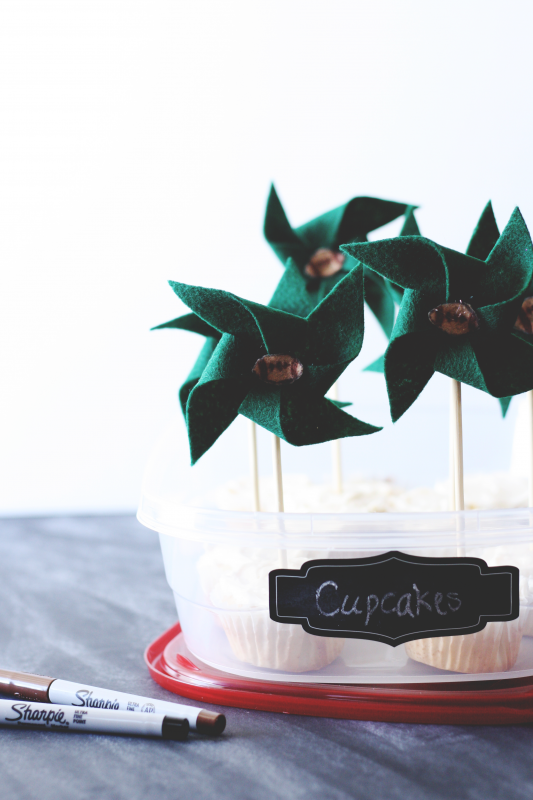 There you have it! A couple cute, simple and trendy ways to spice up your Super Bowl parties this year whether you're hosting or bringing a dish to share! Starting January 25th, you can also request a coupon to receive $1 off Sharpie markers and $1 off Rubbermaid containers! All you have to do is text "COUPONS" to TARGET (827438) and you'll receive a text message with your coupons! Simple!
Are you hosting a Super Bowl party this year or attending one?
Click below to visit this month's featured sponsor: