This shop has been compensated by Collective Bias, Inc. and its advertiser. All opinions are mine alone. #GoldfishGameTime #CollectiveBias

We're finally experiencing the occasional warmer temperature here in Wisconsin, but for the most part we're still stuck indoors 99% of the time. It's getting old. Really, really old. Needless to say, I've been pulling at straws trying to figure out indoor activities to keep Alea busy that don't involve the TV or some sort of other screen so we headed to Walmart to find something fun to do! (Not that I'm against a little screen time, but one can only watch the same show so many times. You know?)
When it comes to fun indoor activities, it's always a bonus in my opinion if they involve a little learning as well. While looking for snacks and fun indoor activities at Walmart, we thought it might be fun to do a little addition and subtraction practice and that's how this Pepperidge Farm® Goldfish® cracker Math Game was born!
Click the image below to purchase Goldfish crackers online.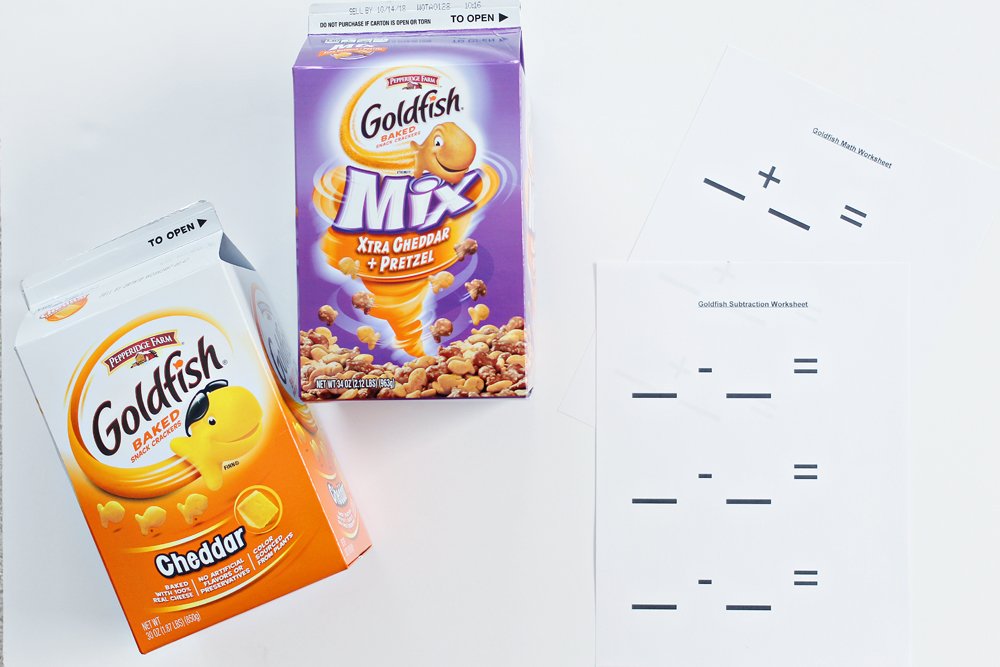 Materials:
– Goldfish cracker math printable found HERE and HERE
– Pair of dice
– Goldfish crackers of your choosing
We bought our Goldfish crackers and the dice at Walmart. They have Goldfish crackers right now on rollback for $6.46 for the big 30oz cartons in store only! And that's an amaaaaazing deal. You can play so many games with 1 carton and so many school snacks! I purchased the Pepperidge Farm® Goldfish® crackers Cheddar and the Pepperidge Farm® Goldfish® crackers Mix.
How to Play:
– Roll the dice once for the first number in the equation.
– Roll the dice again for the second number in the equation.
– Using the Goldfish crackers as a visual, your child should solve the equation and place the correct amount of Goldfish crackers after the equals sign.
It really is a simple game, but Alea has spent endless amounts of time playing this and it's just great knowing that she's actually learning something. She's been doing great with addition, but this helps to reinforce those addition facts and help to commit them to memory. Subtraction is a little more difficult for her, so this game helps her to work on that.
Ultimately, this simple little game shows her that math can be fun! I know growing up and still to this day, math just isn't my strong suit. My goal with Alea (and in the future with Mckenna) has always been to let her make up her own mind when it comes to math. I try not to sway her opinions by involving opinions of my own, if that makes sense.
What are your favorite indoor learning activities to do with your children? Check out this website for more game time inspiration.