This shop has been compensated by Collective Bias, Inc. and its advertiser. All opinions are mine alone. #PurinaONEPets #CollectiveBias

It's no secret around our house that our new puppy, Abbey, and I have a love-hate relationship. She's the biggest love bug and the best snuggler, but she's also known to be a little terror and loves to chew everything in her path. She's getting better about it, but we're also still working on potty-training her and goodness sakes has that been a battle over the last 11 months or so.
Our relationship was put to the ultimate test just over a month ago. I was letting her outside and she started wandering off away from me. We never put her on a leash in our backyard which isn't fenced in, but we've never had a problem. I followed her about a mile away from home before I lost sight of her and had to run home to go get my car to start the search. She was gone 11 hours that day before we found her just before a storm hit. I think we all cried lots of tears that day and I was no exception. I realized that little stinker sure had a huge place in my heart and it was absolutely devastating to not know where she was and if she was safe.
It seems silly, but in that moment, I felt the need to ensure that both of our dogs would be with us as long as possible and in order to make that a reality, I knew we would have to make some changes to give them the healthiest life possible.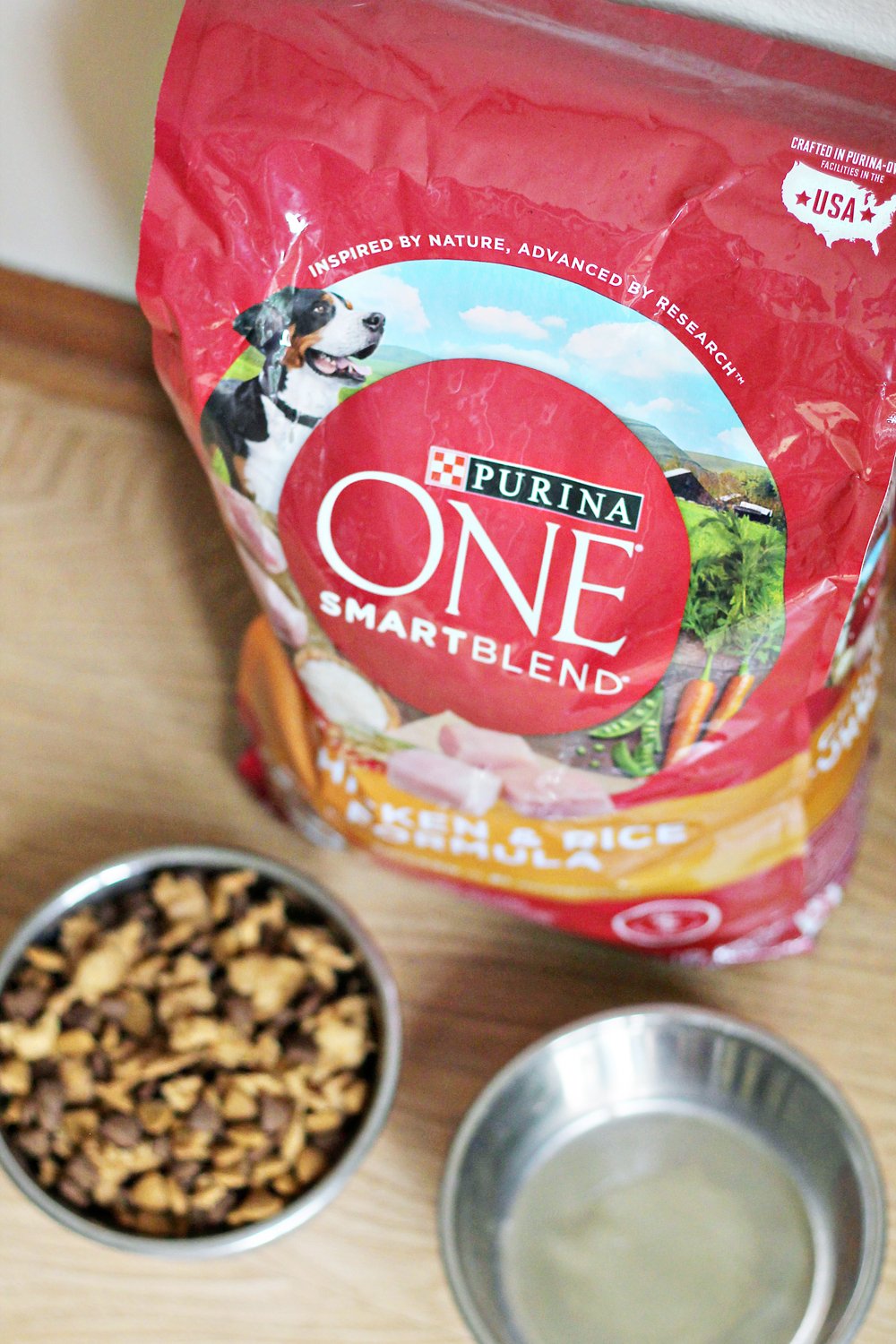 Click the image above to shop for your Purina ONE dog food!
How to Keep Your Puppy Healthy from the Inside Out
1. Start with Food: We're starting to ease Abbey off of puppy food and that's got me looking at what kind of foods we're feeding our dogs. We also have a chocolate lab named Bentley. Paying more attention to the ingredients in my own food as also opened my eyes to the ingredients in our dogs food as well. I've been incredibly impressed with the quality of Purina ONE®'s food and the difference it can make in your dog. We are currently using Purina ONE® SmartBlend Chicken & Rice Adult Dry Dog Food for both dogs. They believe that every ingredient has a purpose and I couldn't agree more!
Purina ONE® even encourages you to take their 28-DAY CHALLENGE. After 28 days of Purina ONE® dog food, your dog may see increased energy, a shinier and healthier coat, clear and alert eyes, and positive improvements in your dog's immune system.
You can find Purina ONE® at Target– that's where we bought ours. You can get 5% off and free shipping when you subscribe to Purina ONE® at Target.com and if you purchase in-store. You can also print a $3 off coupon HERE and it'll also give you a personalized food recommendation for your pet! Also from 9/2-9/15: FREE $5 Target GiftCard™ when you buy any two Purina ONE® Dry Dog Food bags! What a steal of a deal, huh? Mckenna and I had the best time together just the two of us shopping for all of our essentials at Target. We don't get a lot of time together just the two of us without Alea around so this time at Target together was extra special. I'm not even ashamed to admit that Alea and I have had similar special moments at Target as well– Target is always a place I've felt togetherness and had special bonding time with my family at, so it means a lot to do the same with my girls!
2. Hydration is Key: Just like we need adequate fluids, so do our dogs. Don't forget to give your dog extra fluids when the heat and humidity is high and/or after increased activity.
3. Exercise: This is something we can work on with both of our dogs. We don't seem to make time to take our dogs for regular walks and it's definitely something we need to start working on. I know that the extra physical activity would certainly improve Abbey's behaviors and the extra exercise would help Bentley lose a little bit of the weight he's put on.
4. Less Human Food: Unless we're having steak for dinner and there's scraps our dogs don't get any table food. And as "mean" as that may sound, it's really better that way. So much human food isn't made for dogs to consume and there are a lot of human foods that can be dangerous to dogs such as chocolate and grapes, so it's best to just avoid those table scraps if possible.
5. Keep Them Groomed: Making sure your pup's nails are trimmed short but not too short and their coat is brushed thoroughly is a great way to keep your puppy healthy as well.
So maybe I've grown to have a bit of a soft spot for the crazy little puppy in our house name Abbey. Bentley won over my heart a long time ago. He's a gentle giant and the sweetest to our girls. Abbey on the other hand is as hyper as they come and she's had to convince me a little.
I think it's safe to say she's won over all of our hearts, though, and we hope these healthy changes we're making to both our pups lives will keep them around for many years to come.
How do you ensure your puppy stays healthy?
Hop on over HERE to read other blogs sharing their experience with Purina ONE as well!